Introduction
Most carriers have a variety of positions that will allow you to carry your child on your front, back, or hip. (An image indicating the position options has been provided below.)
There are many different types of baby carriers available: slings, wraps, and soft structured carriers (SSCs).
All three styles of carriers allow for skin-to-skin contact between parents and babies as well as giving parents hands-free time.
Now you can accomplish daily tasks or enjoy a social occasions without having to set youre little one down somewhere unsafe like on top of the dryer!
Do You Need A Baby Carrier?
Your overbearing mother-in-law is calling for the hundredth time to confirm your dinner reservations (as if you could stomach through that), you've dropped your car keys (due to shock of course), you are desperately trying to grab the takeaway coffee the barista is holding out to you (and boy, do you need it) and where is your baby?
Sliding halfway down your body because you don't have enough arms!
Okay, maybe we're being slightly dramatic, but it could happen!
Point is that a baby carrier or baby holder exists to provide you with literal support and to create a hands-free experience.
It gives mothers more freedom from carrying heavy bags while shopping with the baby in tow; they can keep their hands free now!
It encourages bonding between father/father figure and child through closeness both mentally AND physically (babies need physical contact just like adults do).
Baby carriers and infant carriers are great for meeting people! You can wear your baby on your front, back, or hip and talk to anyone without having to worry about holding them.
It allows you to interact with others while still being able to keep an eye on your child.
Table of Contents
Best Baby Carriers
The best baby carrier is the one that suits your lifestyle and personal preference the best.
Some mom's find the wrap a bit cumbersome but great for a newborn. Other parents prefer the soft structured baby carrier especially if they have a bigger infant.
Below you can click and view our pre-loved baby carriers. We do stock new carriers as well for example the Chelino structured carrier. Because you will use your carrier for a short period of time, buying used makes so much sense.
View our shop for new and pre-loved baby carriers NOW!
Types of Baby Carrier
Different Types Of Baby Carriers For Your Child
Soft-structured baby carriers
On the lookout for any pre-loved baby carriers, follow to our website where be provide it all and more: https://babyhouse.co.za/product-category/new-baby-items/?yith_wcan=1&product_cat=baby-carriers
Baby Slings (no rings)
A baby sling is a soft carrier that allows you to wear your baby in front of your body.
This kind of carrier stretches across your chest and around one shoulder, allowing you to keep your hands free from other things.
Baby slings come in many different styles, but they're mostly made from fabric with elasticized edges and safety straps to hold the baby in place.
Some are designed to fit newborns while others can be used until they're old enough to walk or turn out on their own.
You might even find an ergonomic sling that supports babies with special needs like Down syndrome or autism spectrum disorder (ASD).
justed to fit your baby comfortably.
Soft Cotton Baby Sling Carrier
---
Soft & Breathable
Enjoy hand free
Comfortable
Multifunctional Breathable Baby Sling Waist
---
The baby carrier is designed to keep babies safe close and happy while giving you the freedom to get on with your day.
The hammock-style baby sling is also perfectly shaped to support a newborn's developing spine.
Comfortable for both parents and Babies, the design promotes face-to-face contact.
Best Ring Sling Baby Carriers
Baby wraps with rings are a great choice for newborns. The extra support and stability provided by the rings and straps will help you keep your baby close to you, even if they are fussing or crying.
For breastfeeding mothers, wraps with rings are easy to put on and take off so that you can feed your baby whenever they need it. This makes them perfect for parents who want to save money on multiple carriers.
This ring sling is both stylish and supportive for both the parent and their little one.
An example of this: BabySense Ring Sling Carrier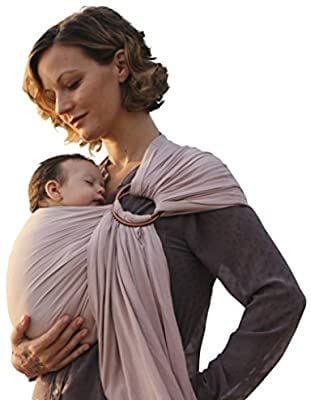 BabySense Ring Sling Carrier: This is a ring sling carrier that is suitable for newborns and infants up to 15 kilograms.
It has a padded shoulder and a ring that can be adjusted to ensure a comfortable and secure fit. The carrier is easy to use and can be adjusted quickly to accommodate your baby's changing needs.
Best Baby Wrap Carriers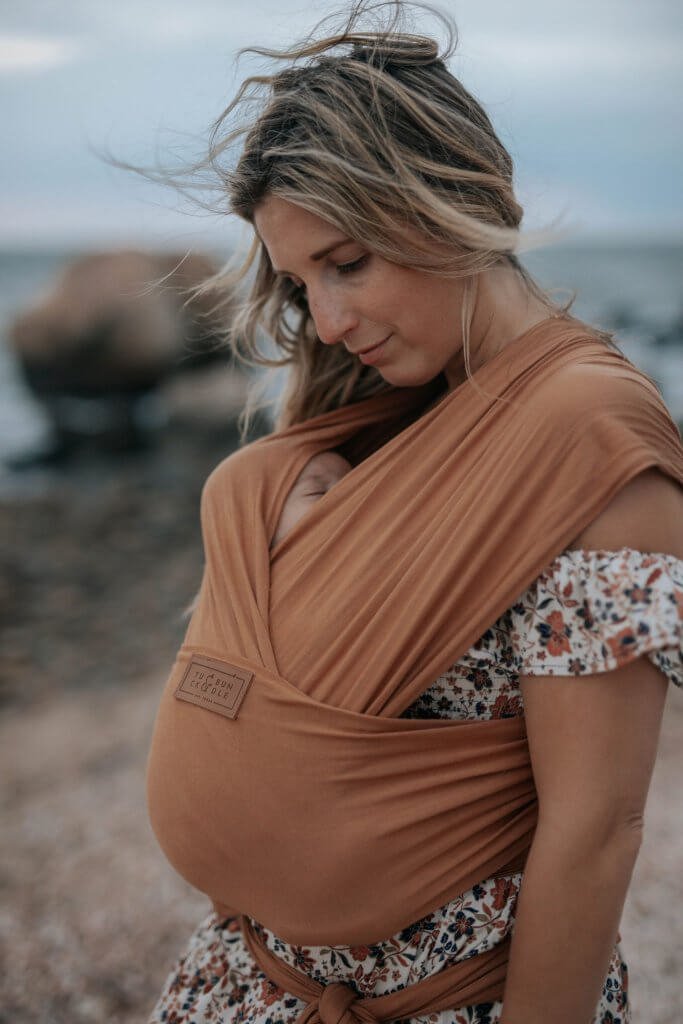 This Baby wrap is soft and stretchy, with a long piece of fabric that you tie in various ways to secure your baby.
The baby wrap comes in different sizes and styles, but the most important thing to keep in mind when choosing one is that they're meant to be worn over the chest (and not around the waist like a traditional sling).
Baby wraps get their name from their resemblance to traditional fabric wraps used for carrying infants around during breastfeeding or as an alternative feeding method.
They're often made from thin cotton or hemp fabrics, which are breathable and comfortable even if you wear them for hours at a time.
Bebear
---
The Baby Wrap Carrier is comfortable and easy to wear for extended periods of time
Three sections of fabric secure your baby for triple-wrapped security
Your baby can hear your heartbeat and find comfort in the touch of your body within the cuddly comfort of baby wrap.
The ergonomic positioning of the baby, the 'M' position with knees up above bum, naturally places less weight and strain on the baby's developing hips.
NooNoo Pie Tie Baby Wrap
---
Baby wrap carrier which is made of a long piece of soft, comfortable fabric
We have the perfect blend of 95% cotton and just a little added lycra for the stretch so that you can enjoy all the benefits that natural cotton fibers provide, as well as the added flexibility and support that the lycra provide
The 4 way stretch in our fabric means that you won't find yourself constantly readjusting the wrap to get it right.
An example of this:
KangaWrap Baby Wrap Carrier:
This is a wrap carrier made from soft, stretchy fabric that is suitable for newborns and infants up to 9 kilograms.
The carrier is designed to distribute the weight of the baby evenly across the wearer's back and shoulders, making it comfortable to wear for extended periods.
Another example of this:
Mei Tai carriers:
These carriers feature a rectangular piece of fabric with straps that tie around your waist and shoulders. They are versatile and can be adjusted to fit your baby comfortably.
Best Baby Soft Structured Baby Carriers
Listen up gentlemen, this one's for you. Baby carriers for men. Ok, ok, it is for both parents. So let us dive straight into it.
A Structured carrier is designed to be comfortable for both you and your baby.
Most of these baby body carriers are made with a padded waistband, an adjustable shoulder strap, and a headrest so you can wear your little one in a variety of positions depending on their age, size, and how much they weigh.
Soft-structured carriers or a Newborn baby carrier come in a variety of sizes, shapes, and colors.
Some carriers have multiple pockets on them where you can store snacks or pacifiers for easy access when your child needs something during the day.
Baby carriers for Newborns are specially designed to support the delicate head, neck, and spine of a newborn baby.
They are usually made from soft and breathable fabrics to ensure maximum comfort for both the baby and the caregiver.
Newborn baby carriers come in a range of sizes and colours to suit different preferences and styles. It's important to choose a newborn baby carrier that fits snugly and securely to ensure the safety of the newborn.
Some carriers also come with hip seats to provide additional support for the caregiver's back and hips, especially during extended periods of carrying.
An example of this is: Ergobaby Omni 360 Baby Carrier
Ergobaby Omni 360 Baby Carrier:
This is a soft-structured carrier that is suitable for babies and toddlers weighing between 3.2 and 20.4 kilograms.
It has a padded waistband and shoulder straps that can be adjusted for a comfortable fit.
The carrier offers multiple carrying positions, including front-facing, back-facing, and hip carrying.
And now le us look at the Ubuntu Baba:
1.) The Stage 1 - Baba 1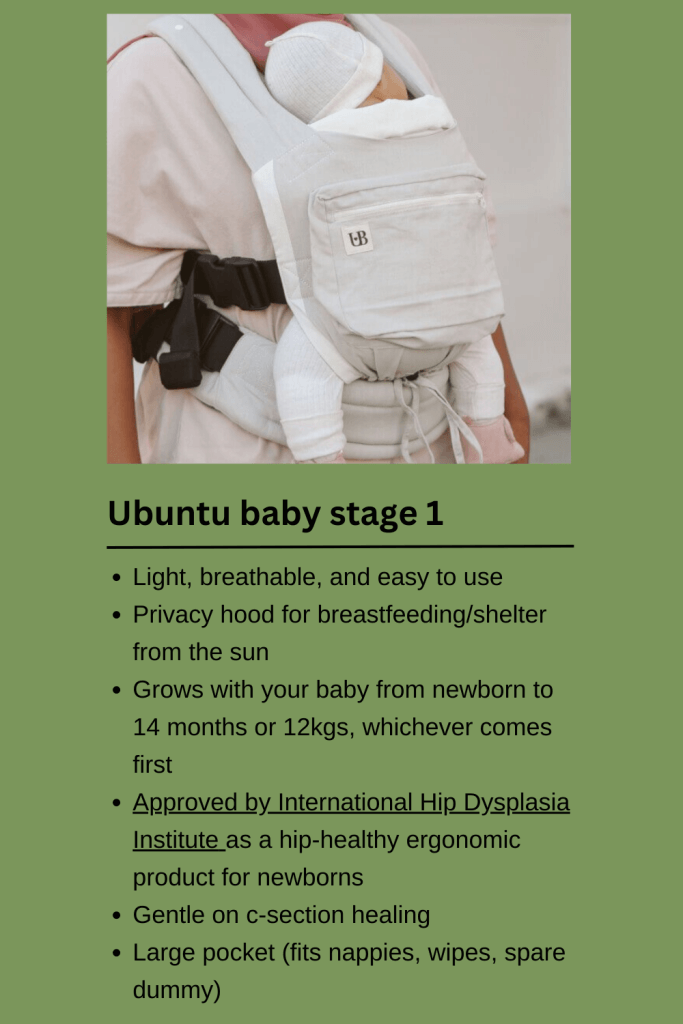 Introducing the Ubuntu Stage 1 carrier, the first stage of our baby carrier collection, tailored to cater to the requirements of your newborn baby as they grow from 0-14 months or 12kgs, whichever comes first.
Crafted to provide you with a hassle-free solution for meeting your baby's ever-evolving needs, this carrier is a lightweight, breathable, and user-friendly carrier.
It allows you to carry your newborn with ease, making it the ideal choice for busy parents.
It boasts a privacy hood that provides shelter from the sun and offers a discreet environment for breastfeeding.
It has been approved by the International Hip Dysplasia Institute (IHDI) as an ergonomic product that promotes hip-healthy development in newborns.
Moreover, this newborn carrier is gentle on c-section healing and offers ample storage space with a large pocket that can accommodate essentials like nappies, wipes, and a dummy.
Ubuntu baby are confident in the quality of our product, which is why they offer a 30-day money-back guarantee, as well as a lifetime guarantee on stitching and workmanship of new carriers.
2.) Ubuntu Baba : The Stage 2 - Baba 2
Looking for a comfortable and convenient way to get your toddler to sleep quickly, even in busy places or up a mountain? Look no further than this versatile baby carrier!
With the option to carry your little one in either the front or back position, this carrier offers both flexibility and support for parents on the go.
Plus, if you suffer from back pain, you can adjust the straps to form an X for added comfort.
The carrier also features a large pocket to hold all the essentials, including nappies, wipes, and a dummy. And for added privacy when breastfeeding or protection from the sun, there's a handy hood that you can adjust as needed.
One of the best features of this carrier is its height-adjusting zip, which accommodates taller toddlers and helps maintain a healthy, ergonomic M-position.
And with a 30-day money-back guarantee and a lifetime guarantee on stitching and workmanship, you can be confident in your purchase. Only applicable to new carriers.
So if you're looking for a baby carrier that will make your life easier and your little one more comfortable, check out this versatile and durable option today!
Last but not least, the Ubuntu reviews:
Ubuntu Baby Carriers are a popular brand that offers a variety of baby carriers for parents looking for an ergonomic and comfortable option.
The brand focuses on using eco-friendly and sustainable materials in their carriers, which may appeal to environmentally conscious parents.
Many customers have praised the comfort and quality of the carriers, as well as the versatility and adjustability to fit different body types and baby sizes.
However, as with any product, there may be some individual variations in terms of fit and comfort.
It's always a good idea to do thorough research and read reviews from multiple sources before making a purchase.
African Baby Carrier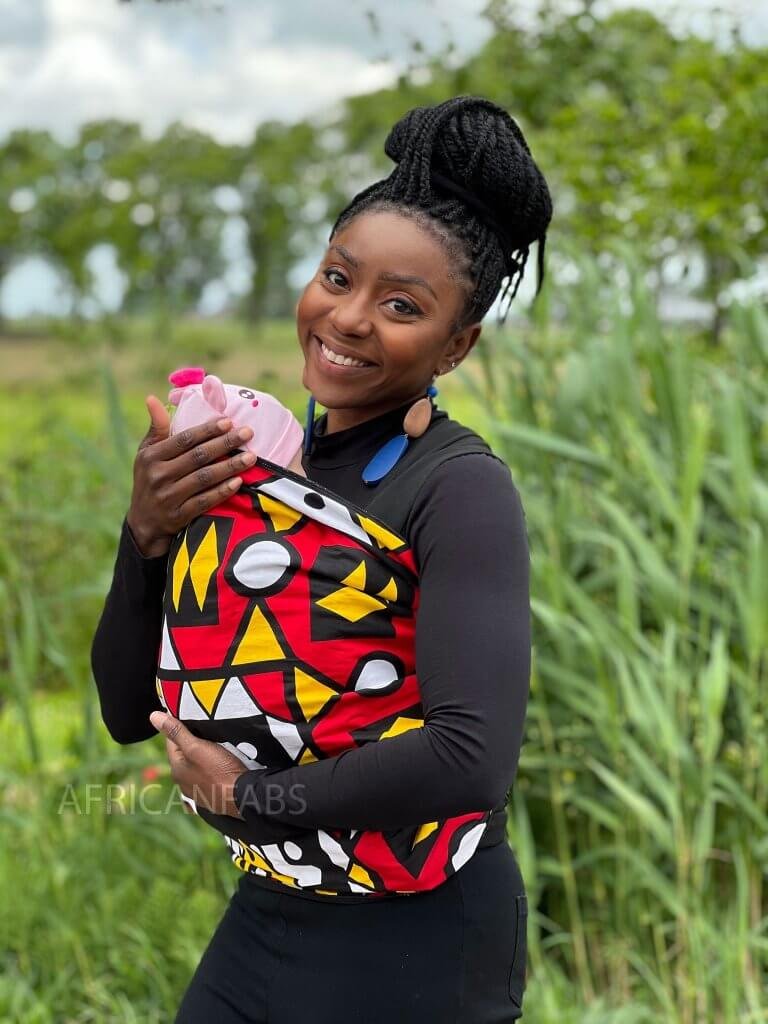 The African Baby Carrier is a unique and authentic product made entirely in Africa, using the finest and most durable cotton materials.
This carrier is designed to provide the utmost comfort and support for both the baby and the caregiver, with the added benefits of modern materials.
The African Carrier allows the caregiver to tend to their daily tasks while ensuring a healthy and supportive environment for the child.
The carrier is specially crafted to provide strong support for the correct development of the child's spine and hips, which is essential during their early years.
Additionally, the carrier comes with a specially designed hood that provides 100% support for the child's head while sleeping.
During the first 3 to 5 months, it is recommended that the baby is carried on the front of their caregiver, and thereafter on the back.
This carrier is designed to cater to the different stages of development and can be used until the child is approximately 4 years old.
Babywearing has numerous benefits that are now widely acknowledged.
Although the West has only recently rediscovered these benefits, babywearing remains the most universally practiced baby carrying method.
Best Hiking Baby Carriers
When choosing a hiking baby carrier, it's important to consider the weight limit, adjustability, and comfort for both the parent and the child.
Some popular brands of hiking baby carriers in South Africa include Osprey, Deuter, and Thule.
One recent addition to the world of baby carriers is the hip seat carrier, which is a type of soft-structured carrier that features a built-in seat for the child.
This innovative design allows parents to carry their child's weight on their hips rather than their shoulders, making it a more comfortable option for longer hikes.
1.Deuter Kid Comfort Active: This carrier is designed for parents who love to hike with their little ones. It has a comfortable back system, a child-friendly harness, and a sunshade that protects your baby from harmful UV rays.
2. Thule Sapling Elite: This hiking baby carrier has a fully adjustable back panel and hip belt, making it comfortable for both parents to use. It also comes with a removable backpack that can be used to store your baby's essentials.
3. Osprey Poco Plus: This is a versatile hiking baby carrier that can be used for both short and long hikes. It has a comfortable, adjustable harness system and comes with a detachable sunshade and rain cover.
4. Ergobaby Omni 360: This is a great option for parents who want a baby carrier that can be used for hiking as well as everyday use. It has a padded waist belt and shoulder straps for added comfort, and can be used in multiple carry positions.
5. Kelty Journey PerfectFit Elite: This hiking baby carrier has a fully adjustable suspension system that ensures a comfortable fit for both parents. It also comes with a sunshade and rain cover to protect your baby from the elements.
Overall, investing in a good quality hiking baby carrier is a must for parents who love outdoor adventures and want to share those experiences with their little ones.
With so many options available in the market, it's important to do your research and find the best baby carrier that fits your needs and budget.
Accessories
1.Teething Pads: These pads attach to the straps of the carrier and provide a safe and comfortable place for your baby to chew and teethe.
2. Carrier Cover: A carrier cover can help protect your baby from the elements, such as sun, wind, and rain, while they are in the carrier.
3. Infant Insert: If you have a soft-structured carrier, an infant insert can help provide extra support and cushioning for newborns and young infants.
4. Storage Bag: A storage bag can help keep your carrier clean and protected when not in use.
5. Hood: Some carriers come with a detachable hood that can provide additional sun protection for your baby's head and neck.
6. Drool Pads: Similar to teething pads, drool pads can help protect the carrier from drool and spit-up.
7. Mirror: A small mirror that attaches to the carrier can help you keep an eye on your baby while they are facing away from you.
8. Toy Straps: These straps can be attached to the carrier and provide a safe and secure place to attach toys and teethers to keep your baby entertained while in the carrier.
Warranty
When it comes to purchasing the best baby carrier on a budget, it's important to consider the warranty offered by the brand or company you choose.
While some brands offer warranties that cover defects and other issues that may arise, others may not offer any warranty at all.
If you, the client, are wondering about the warranty for your chosen baby carrier, then be sure to look at the brand's terms and conditions before making your purchase.
Some brands may offer a limited warranty, while others may offer a full warranty that covers all aspects of the carrier.
Additionally, some brands may offer extended warranties or additional protection plans for an additional fee.
Ultimately, it's important to do your research and choose a brand that offers a warranty that meets your needs and gives you peace of mind knowing that your investment is protected.
How Many Months Before I Can Use A Baby Carrier?
Most baby carriers can be used as early as a newborn, but it's important to check the manufacturer's recommendations for the specific carrier you have.
Some carriers require the use of an infant insert for the first few months of a baby's life, while others are designed to be used without an insert from birth.
It's also important to make sure that your baby has good head and neck control before using a carrier without an infant insert.
Typically, this occurs around 4-6 months of age, but every baby develops at their own pace, so it's important to observe your baby's development and consult with your pediatrician if you have any concerns.
In summary, while some baby carriers can be used with a newborn, it's important to follow the manufacturer's recommendations and monitor your baby's development to ensure safe and comfortable use of the carrier.
Quickview shop for our new and pre-loved selection of Baby Carriers. Buy online or in shop. Our regular price and special price are far below market price.
How To Use Baby Carriers Safely
To ensure your baby's safety, you should take the following precautions:
Make sure the carrier is adjusted to fit your body properly. It should be long enough to allow a comfortable carry position without causing stress on your shoulders or back.
Use caution when fastening the buckle across your chest and make sure it's tightly secured before trying to lift or move around with your child in tow.
You mustn't try to put a sleeping infant into an Ergobaby carrier because they can roll out of these carriers quite easily if left alone for too long!
Always make sure that your carrier is properly adjusted before using it. This will ensure a safe and comfortable fit for both you and your child.
Ergobaby carriers are designed to be used from birth until approximately 4 years of age, so it's important that you follow the manufacturer's instructions carefully when setting up your carry system.
Different Ways Carry Your Baby Carrier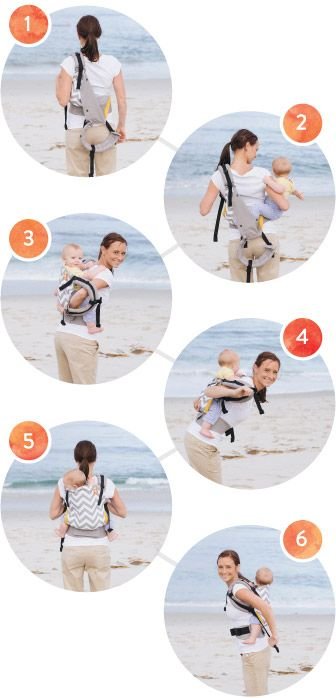 There are different carrying positions for baby carriers and slings.
Front carry - This is the most popular way to carry a baby in a sling/carrier. It has some advantages as it allows you to interact with your child and keep eye contact, but you need to be sure that their head is high enough so that their airways are not blocked (check out our article on preventing infant death).
Hip carry - This is also known as a cradle position where the baby's lower body rests against your hips and knees, with his/her bottom resting inside of your hand(s) or tucked into the crook of your elbow if using a wrap-style carrier like an Ergo or Solly Baby Wrap. The hip carries tend to be more comfortable than front carries because they distribute weight evenly over both shoulders instead of putting strain on just one side as happens when wearing a front-facing carrier such as an Ergo or Boba Carrier.
Back carry - This is a relatively uncommon position but is gaining popularity because it allows you to take your baby with you when you are hiking or camping without having to worry about whether there will be a safe place for them to sleep at night (like there would be if they were in a sling). It can also help give your back a break from the strain of carrying weight on only one side.. The back carry lets you carry your baby on your back, usually with one arm under his/her bottom and one arm around their shoulders.
There are many different ways to do this depending on the type of carrier you are using (we have an article about how to wear a backpack).
FAQs
1. Can you put a newborn in a carrier?
Newborn babies can be worn right away provided there are no medical concerns and the baby weighs around 8 pounds or more. You may find a stretchy wrap more comfortable for this stage. If you do a soft structured carrier, consider using a newborn insert for the best fit. (Source: Healthline.com)
2. Can a baby be in a carrier all day
LIMITE time in the carrier to an hour at a time. Then give your baby a break so his hips can move around and avoid getting overextended
3. Can baby carriers cause bow legs?
Not at all! Baby carriers play no part in whether or not your child is bow-legged or not. However, if not used correctly, carriers could contribute to hip dysplasia, so make sure you read the owner's manual carefully to know that you're using it correctly.02 Sept 2021
4. Do babies sleep better in carrier?
Napping in a carrier may even help your baby go to sleep easier at night and get on a good sleep schedule. This is because the close contact with mom helps them stay calm and get more peaceful rest during the day
5. What are the most popular baby carrier for newborn?
Some of the most popular baby carriers for newborns include the Moby Wrap, Boba Wrap, Ergobaby Adapt, Baby K'tan, and the Lillebaby Complete. These carriers are known for their soft, comfortable fabric and ergonomic design that allows for proper support of a newborn's delicate neck and spine.
6. What celebrity uses a baby chest carrier?
Many celebrities have been seen using baby carriers, including chest carriers, to keep their little ones close and secure. Some of these celebrities include Ryan Gosling, David Beckham, Chris Hemsworth, Olivia Wilde, and Chrissy Teigen.
7. What are the top 5 baby infant carrier?
1.Ergobaby Omni 360: This carrier offers 4 carrying positions and is designed to fit babies from newborn to toddler. It has padded shoulder straps and lumbar support for the parent's comfort.
2. Baby Tula Free-to-Grow: This carrier also offers 4 carrying positions and can be adjusted to fit babies from 7 to 45 pounds.
3. Lillebaby Complete: This carrier offers 6 carrying positions and can be used from newborn to toddler. It has padded shoulder straps for the parent's comfort.
4. Boba Wrap: This carrier is a stretchy wrap that can be used from newborn to 35 pounds.
5. Beco Gemini: This carrier offers 4 carrying positions and can be used from newborn to toddler. It has a padded waistband and shoulder straps for the parent's comfort and a foldable headrest for the baby's comfort.
8. What is a baby harness carrier?
A baby harness carrier is a simple and popular carrier that consists of a fabric panel wrapped around the baby's torso, with straps over the shoulders and waist/hips of the caregiver. It has buckles/fasteners to secure the carrier and evenly distribute the baby's weight. The design allows the baby to be held close to the caregiver's body while keeping their hands free.
Conclusion
In conclusion, finding the best baby carrier or infant carrier on a budget could seem like a bit of a challenge, but actually there are many options available that provide comfort, safety, and convenience for both you and your little one.
New or used, it does not matter all too much, just be sure to remember that safety, and comfort are the number one priority when selecting a carrier.
Cleaning the carrier thoroughly I also important for the babies over hygiene and health.
Consider your baby's age, weight, and developmental stage, as well as your own body size and comfort preferences before purchasing any baby body carrier, infant baby carrier etc.
When you have a baby, you are going to need a lot of new gear. Finding the right products is important for your child and yourself as parents.
The most important thing about choosing baby carriers newborn is making sure that they will fit your lifestyle so that you can use them easily every day when needed and not worry about other issues like comfort or safety concerns.
We do also sell second-hand baby carrier for baby and you mommy, if it is what you want to SAVE money:
Recommended Reading
Read more of our blogs here:
1.) 51 Expert tips on choosing the right stroller or pram: https://babyhouse.co.za/prams-and-strollers/
2.) Doona Stroller and Car seat: https://babyhouse.co.za/doona-stroller-first-integrated-travel-system/
References
This information is provided for educational and entertainment purposes only. We, The Mom & Baby House cc (www.babyhouse.co.za) do not accept any responsibility for any liability, loss, or risk, personal or otherwise, incurred as a consequence, directly or indirectly, from any information or advice contained here.
2. https://www.babylist.com/hello-baby/best-budget-baby-carriers
3. https://en.wikipedia.org/wiki/Babywearing
4. https://raisingchildren.net.au/newborns/safety/equipment-furniture/baby-carrier-sling-safety#