Looking for the best baby stroller but have no idea what to look for? We will be diving deep into the following categories: Best Travel Systems, Best Jogging Strollers, Best Double Strollers and Best Umbrella Strollers with 5 to 8 specific brands and models that we prefer.
Exploring the best baby stroller does not need to be difficult or stressful. Let us help you find the perfect companion to make every stroll a joyous and memorable experience.
Introduction to Exploring the Best Strollers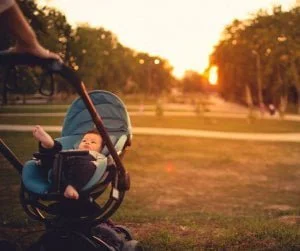 Exploring the best strollers for sale have become an essential part of modern parenting, offering convenience, comfort, and safety for both parents and babies.
With the wide variety of strollers for sale, it can be overwhelming to find the perfect one that suits your needs and budget.
However, fear not!
In this comprehensive guide, we will explore everything you need to know about strollers for sale, including the different types, features to consider, where to buy them, price ranges, and top brands and models currently on sale.
So, let's dive in and find the best stroller for you and your little one!
READ: Baby Strollers & Prams - 99 Questions Answered
Types of Baby Stroller
1. Travel Systems
Travel systems combine a stroller and an infant car seat, providing a seamless transition from car to stroller without disturbing your sleeping baby.
They offer convenience and versatility, making them a popular choice for new parents. Travel systems are compatible with different car seat models, offering flexibility as your child grows.
Joie Versatrax Travel System
Joie Litetrax 4 Stroller
Maxi-cosi Stella Travel System
Chicco Bravo Trio 3-in-1 Travel System
For child comfort, the Chicco Bravo features a one-hand, multi-position reclining seat, a convenient child tray with cup holders, storage basket and a large, UPF 50+ canopy with peek-a-boo mesh window for protection from the elements in all 3 modes.
Graco Fast Action Fold Travel System
Chelino Urban Detour Travel System
READ: Chelino Prams - Complete Stroller Guide 2023
Chelino Coyote Stroller
Cybex Gazelle S Travel System
READ: Ultimate Guide to Choosing the Perfect Cybex Stroller
2. Umbrella Baby Stroller
Umbrella strollers are lightweight and compact, making them ideal for travel and quick outings. They are easy to fold and store, making them a popular choice for parents on the go.
While umbrella strollers may lack some of the advanced features of full-size strollers, they make up for it with their portability.
Maclaren Quest Stroller
Maclaren Techno Stroller
Joie Nitro Stroller
Joie Brisk LX Stroller
Chicco Liteway Stroller
3. Jogging Baby Stroller
Jogging strollers are designed for active parents who want to bring their little ones along for a run. They feature sturdy frames, large air-filled tires for smooth rides, and a suspension system to absorb shocks.
Jogging strollers provide enhanced stability and manoeuvrability, ensuring a comfortable experience for both parent and child.
Bebe Confort High Trek Jogger
Thule Urban Glide 2 Jogger
The Thule Urban Glide 2 Jogger is a popular choice for active parents who enjoy jogging or running while spending quality time with their baby.
Here are some features and specifications of the Thule Urban Glide 2 Jogger:
1.) Design: The Thule Urban Glide 2 Jogger features a sleek and modern design, combining functionality with style. It has a sporty look and is available in various attractive colors.
2.) Jogging Performance: The stroller is specifically designed for jogging and running. It offers a smooth and comfortable ride with its large 16-inch rear wheels and 12-inch front swivel wheel. The front wheel can also be locked in a fixed position for added stability during faster runs.
3.) Suspension System: It is equipped with a rear suspension system that helps absorb shocks and bumps, ensuring a smoother ride for your baby even on uneven terrain.
4.) One-Hand Fold: The Urban Glide 2 Jogger features a convenient one-hand fold mechanism, allowing you to quickly and easily fold the stroller for storage or transport.
5.) Adjustable Handlebar: The stroller has an adjustable handlebar that can be customized to different heights, ensuring comfortable pushing for parents of varying heights.
6.) Canopy: The stroller comes with a large and adjustable canopy that provides excellent sun protection, shielding your baby from harmful UV rays. It also has a peek-a-boo window, allowing you to keep an eye on your little one while on the move.
7.) Reclining Seat: The seat of the Thule Urban Glide 2 Jogger is padded and can be reclined to multiple positions, including a near-flat position, providing a comfortable and relaxing experience for your baby during longer outings.
8.) Weight and Dimensions: The Thule Urban Glide 2 Jogger weighs approximately 25.3 pounds (11.5 kg) and has the following dimensions: unfolded - 41.1 x 27.2 x 40 inches (104.4 x 69.1 x 101.6 cm), folded - 34.3 x 27.2 x 13.3 inches (87.1 x 69.1 x 33.8 cm).
9.) Storage: The stroller features a spacious under-seat storage basket that can accommodate your essentials, such as diaper bags, snacks, or toys. It also has additional storage pockets for keeping smaller items within reach.
10.) Compatibility: The Thule Urban Glide 2 Jogger is compatible with various infant car seat models using Thule's car seat adapter (sold separately), allowing you to create a travel system for your baby.
Note: It is always recommended to consult the manufacturer's specifications and guidelines for the most accurate and up-to-date information on the Thule Urban Glide 2 Jogger.
Chicco Activ 3-in-1 Jogger
Jeep Country Sport Plus Jogger
4. Double Baby Stroller
Double strollers are a must-have for parents with twins or two young children. They come in various configurations, such as side-by-side or tandem, offering options to accommodate different needs.
Double strollers provide the convenience of transporting two children simultaneously without compromising on comfort.
Joie Aire Twin Double Stroller
Double Trouble Twin Stroller
Noola Elite Twin Stroller
Maclaren Techno Stroller
Graco DuoGlider Click Connect Double Stroller
READ: Doona Stroller and Car seat: The Ultimate Review
Features to Consider When Buying a Baby Stroller
When shopping for a stroller, it's important to consider various features to ensure that it meets your requirements. Here are some key features to look for:
Five-point harness: Provides maximum security and prevents your baby from slipping out of the stroller.
Brake system: Look for a stroller with a reliable brake mechanism to ensure safety when parked.
Canopy: A large and adjustable canopy helps protect your child from the sun, wind, and rain.
Recline positions: Adjustable seat recline allows your baby to nap comfortably on the go.
Suspension system: A good suspension system ensures a smooth ride even on rough terrains.
Padding and support: Look for a stroller with comfortable padding and adequate head and back support for your baby's comfort.
Storage space: Ample storage compartments and pockets allow you to carry essential items conveniently.
Easy folding mechanism: Look for strollers that fold compactly and can be easily stored or transported.
Adjustable handlebar: An adjustable handlebar ensures that parents of different heights can push the stroller comfortably.
Tips for Maintaining Your Baby Stroller
Use a mild detergent and warm water to clean the fabric.
Wipe down the frame with a damp cloth.
Remove and wash the seat cover according to the manufacturer's instructions.
Checking Your Baby's Weight Limit:
Refer to the stroller's user manual to determine the maximum weight limit.
Avoid overloading the stroller beyond its recommended capacity.
Check tire pressure regularly and inflate as needed.
Inspect tires for wear and tear and replace if necessary.
Fold the stroller properly and store it in a clean, dry area.
Avoid exposing the stroller to extreme temperatures or direct sunlight.
FAQ
Conclusion
In conclusion, the search for a stroller doesn't have to be a stressful endeavor. By exploring options such as used strollers for sale near you and taking advantage of toddler stroller sales, you can find a high-quality stroller at an affordable price.
Keep an eye out on our different strollers for sale, and special promotions on popular brands like Doona and Joie as they offer excellent value for your money.
Remember to prioritize safety, comfort, and durability when making your choice. With the wide range of strollers available, there's something for every parent and child.
So, start your search today and enjoy the convenience and joy that a reliable stroller can bring to your daily adventures with your little one.
Recommended Reading
References
1.) Maclaren Quest Stroller - An Ideal Travel Stroller - Find My Fit
2.) How To Choose A Stroller - We Answer All Your Questions (findmyfit.baby)
Follow us on social media at
YouTube: https://www.youtube.com/c/TheMomandBabyHouse
Facebook: https://www.facebook.com/MOMBABYHOUSE
Instagram: https://www.instagram.com/mombabyhous...
Website: www.babyhouse.co.za