Description
Gazelle S Stroller
This stroller can be used for 1 child or 2 children of different ages or for twins.
Features:
Get ready to change the way you shop – with a range of stroller features that make every city trip with your family enjoyable as never before.
Shopping Without Limits
Take advantage of a complementary detachable Shopping Basket that effortlessly clicks on and off the frame as well as a huge stroller basket at the base of the stroller. With a combined basket capacity of 23 kg, it couldn't be easier to carry your shopping and all your essentials on your trip about town.

From Single to Double
The Gazelle S grows with your family, offering endless opportunities to attach different combinations of stroller seats, cots or CYBEX infant car seats.

Compact Fold
At the end of your trip simply fold the stroller into a compact package, easy to store even in most smaller car trunks.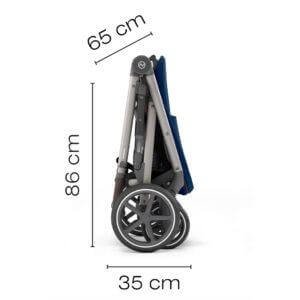 ALL-IN-ONE MODULAR SYSTEM
The Gazelle S Frame can support multiple configurations of Gazelle S Seat Units, Gazelle S Cots, CYBEX infant car seats and the Cocoon S, making it a flexible foundation for your growing family.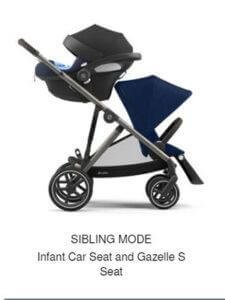 Two Shopping Baskets
The complementary Shopping Basket allows you to carry 10 kg of shopping or daily essentials, and can be simply clicked on and off the stroller frame for extra convenience. Combined with the 13 kg carrying capacity of the stroller basket, there's no shopping trip the Gazelle S can't handle.
Ergonomic Lie-Flat Position
Ready for use from birth, the huge seat unit is robust, comfortable and can be adjusted to an ergonomic lie-flat position.
XXL UPF50 Sun Canopy
Shield your child from the elements with an extendable XXL sun canopy made of UPF50 protective fabric, featuring a mesh window for breathability and healthy air circulation on hot days.
Adjustable Handlebar
The handlebar height can be easily adjusted with one hand, allowing you to find the perfect steering level for your own height.
Specifications:
1060 mm
LENGTH
650 mm
WIDTH
1100 mm
HEIGHT
12,5 kg
WEIGHT
Maintenance:
Fabric covers machine washable at 30°
Manuals:
02_user-guide-gazelle-s-seat-unit
Aton Infant Car Seat
Gr 0 , 45 – 87 cm, max. 13 kg
From birth up to approx. 18 months
Practical travel solution
Outside of the car, the Aton infant car seat forms part of the CYBEX travel system, easily connecting to CYBEX, gb and other brand buggies and strollers with the simple use of an adapter, offering parents a new dimension of mobility.
Energy absorbing shell
Ultra lightweight
Integrated foldaway canopy
Space saving travel system
Stiftung Warentest test winner in Group 0 (06/2009) and awarded a Which? 'best buy'
Functions:
Ultra lightweight
The CYBEX infant car seats are impressively lightweight, making carrying and installation child's play. They offer more comfort for parents and more safety for the child. At the same time, the infant carriers live up to the highest expectations in design, comfort, functionality and safety.
Integrated Foldaway Canopy​
Integrated foldaway sun canopy offers optimal protection for tender and delicate skin. The 2 position canopy of this infant carrier is easy to use and offers optimum protection. The canopy slides under a protective blind when not in use.​
CYBEX Travel System​
The infant car seat can be effortlessly converted into a travel system with CYBEX, GB and other brand buggies and strollers. With the help of an adapter, CYBEX infant car seats can be effortlessly converted into a practical travel system with strollers and buggies from CYBEX, gb and other selected brands.
Specifications:
630 mm
LENGTH
440 mm
WIDTH
380 mm
HEIGHT
3.5 kg
WEIGHT
Maintenance:
Fabric covers machine washable at 30°
Manual:
aton_sg1_de_uk_it_fr_nl_pl_hu_cz_sk-5b44bbe13817d
Aton 2 Fix Isofix Base
Safe and easy installation for great comfort.
The infant carrier is clicked directly onto the base, making the buckling-up process of the infant carrier a nuisance of the past. An indicator confirms the correct installation.
Cybex Aton Base 2-fix is fixed to the car with ISOFIX connectors which offer additional safety and stability. Alternatively the base can be belted to the car when used in vehicles that do not have ISOFIX.