Description
Video shows all possible installation methods ; with an isofix base and with a non-isofix base
Joie i-base Advance Base
Why rent?
Rent Joie i-base Advance Base – Isofix from us when are you are visiting Cape Town or rent for a few months if you are a new mom.
New moms, please note that babies outgrow their infant seats from 5 to 6 months and therefore renting makes so much sense!
The Joie i-Base Advance Car Seat Base is a sturdy anchor for Joie i-Gemm infant seat and the i-Anchor Advance child seat.
Part of the iSizeSafe System, the i-Base Advance utilising ISOFIX for a rock solid installation, provides quick and instant install for the Joie i-Anchor Advance i-Size seat. Ready for the cosiest ride with a total of 7 recline positions, the i-Base Advance allows the seat to recline on-the-go without reinstalling - whenever you or your little rider wishes.
This base is compatible with the Joie I-Anchor Advance 0+/1 Two Tone Black Car Seat, i-gemm, i-anchor, i-snug and i-venture.
(This information is provided by www.halfords.com)
We stock both the Joie Isofix (i-Base) and the non-Isofix (Clickfit) bases
Joie i-base Advance Car Seat Base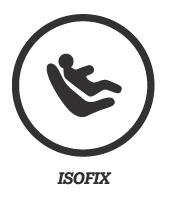 i-Size (ECE R129/00) Accepts i-Gemm™ infant seat and i-Anchor® child seat (forward & rear facing)
Built in rebound bar
Adjustable retracting ISOFIX connectors for the perfect fit
One hand, 7-position recline for a cosy ride from newborn on
On-the-go recline adjusts without reinstalling
Secure installation using the vehicle's ISOFIX
Support leg provides ultimate stability, security and easily adjusts for the best fit
Colour indicators confirm correct installation of base, support leg and child seat to base
Support leg stores tidily under base when not in use
Easy seat release buttons
Quick and easy car seat release button
(This information is provided by www.halfords.com)
Why do you need a base?
Any base whether Isofix or non-Isofix makes the installation of an infant seat pure pleasure.  Without a base the installation can only be done with the car's safety belts. This is not easy and takes quite a few minutes…….
What is Isofix?
ISOFIX is an international standardized fitting system, which provides the safest, easiest and quickest way to install a child car seat correctly without the need of vehicle seat belts.
The name ISOFIX stands for ISO (International Standardization Organization) plus FIX (Fixation).
ISOFIX car seats make use of two standard attachment points located at the base of the seat, plus an anti-tipping forward device: either a support leg or top tether.
Why choose an ISOFIX car seat?
While child car seats using regular seat belts are regularly installed and used incorrectly, with ISOFIX the risk of incorrect installation is very small.
ISOFIX offers high safety for children and ease of use to parents:
• Solid and permanent connection between the car seat and the car chassis: force of impact is more controlled, resulting in less force being applied on the child
• Support leg or top tether as an anti-tipping device for increased stability and safety
• Conveniently easy installation in car using standard fitting points without seat belt hassle
• Minimizes errors in installation and use compared to seat belt car seats
• Seat is also secured when driving without a child
Isofix Bases Explained
Car seats and bases which use the IsoFix anchor points are one of the safest systems available for fixing baby car seats into your car.
Guaranteeing the protection of your child, an IsoFix base or car seat will provide secure travel wherever your adventures may take you.
What is The IsoFix System?
The IsoFix system has been developed in partnership with the automotive industry and is standardized worldwide.
Featured in almost all new cars, the IsoFix system works by securing your child's car seat base to two fixed anchorage points in your car.
Why Choose An IsoFix Base Or Car Seat?
Offering outstanding safety benefits and features, the IsoFix base is fast, and easy to install and remove. Eliminating the need for seatbelt fastenings, it simply clicks into position.
Maxi Cosi, EasyFix Base, 2wayFix Base, and FamilyFix Base are all compatible with the IsoFix standard.
Our bases offer safe rearward-facing travel and give instant visual or sound warnings if the car seat has not been installed properly.
The Maxi Cosi IsoFix bases are also equipped with a support leg for increased stability.
Limiting rotation in case of an accident, the support leg can be height adjusted making sure it rests firmly on the floor