The Maxi Cosi Coral 360 is the first modular 360 rotating infant car seat with a detachable carrier with straps. Multiple safety award winner. Used from birth(40 cm) to 12kg/75cm.
Why to choose the Maxi Cosi Coral 360
Awards of the Maxi Cosi Coral
Maxi Cosi Coral 360 Description
The Maxi-Cosi Coral 360 is a massive improvement on the Maxi-Cosi Pebble Pro and even the Maxi-Cosi Pebble Pro 360; it is the first of a kind with it's a super light detachable infant seat carrier that provides easy and lightweight carrying of your baby in and out of the vehicle. The FamilyFix3 base is also compatible with the Pebble 360 and can conveniently rotate.
Safety and awards
External crash test scores for dynamic safety and ease of use, highly recommends Maxi-Cosi's car seat. The Coral 360 complies with the highest safety standards in the industry, the R129/03 i-Size regulation. This means that whether the seat has been installed onto the FamilyFix 360 rotative Isofix base or with the seat belt, it is i-Size compliant. Side Protection System offers optimal safety in case of a side impact. The audible click and visual indicators confirm that the soft carrier has been correctly installed in the Safety Shell.

Winner of 2021 – Red Dot
Red Dot awards high quality in design. This sought-after award is decided by an international jury based on exceptional design.
IF Design Award 2021 - This award has become a global symbol of excellent design.
Product Safety 2021 – silver award – The Product Safety rewards and recognises companies that put consumer safety at the heart of their business.
Installation:
The Maxi-Cosi Coral 360 fits with easy onto and Isofix base, the FamilyFix 360 rotative base. Just click the infant seat into and out of the base. If your vehicle has not Isofix anchors, you can install the infant seat with the seat belt only.
Ease of use:
The Coral 360 has a lightweight carrier that can detach from the shell of the infant seat. The carries weighs only 1. 7 kg and has retractable handles. This makes for much easier carrying when the mom wants to make a quick stop at a shop, etc. Most mom's cannot carry their infant seats themselves due to the weight of the seats.
The Coral 360 has a harness that always stays open when you want to quickly get baby in and out the infant seat. The retractable handles of the soft carrier enables the parent to carry the baby in many different positions. Not only will you now have your hands free to do shopping etc, but with the Coral Carry strap you can lift the carrier as high or low as you need to.
The extra large sun canopy is super easy to adjust and keeps your baby protected from the sun. The infant seat can easily be clipped onto most Maxi-Cosi stroller, and the car seat cover can be easily removed when it needs cleaning.
Compatible Products
Compatibility with car seat bases and strollers:
Bases: The Maxi-Cosi Coral 360 fits on a FamilyFix 360 base which can rotate with only one hand! No bending over baby and struggling with belts, space etc.
Strollers: The Coral 360 is compatible with the Leona, Lila, LilaCP, Plaza and Adorra strollers.
HERE IS A LIST OF ALL THE COMPATIBLE STROLLERS AND CAR SETS - CLICK HERE
Features
FAQ'S
1.Does Maxi-Cosi have a 360 car seat?
the Maxi-Cosi Coral 360 is the first modular 360° rotating baby car seat that is designed for ultra-lightweight carrying. The Coral 360 is compatible with the FamilyFix 360 base and designed to keep your baby close to you (from birth up to approx. 12 months)
2.What PRAM does Maxi Cosi Coral fit?
The Coral fits on compatible Maxi-Cosi and Quinny pushchairs, including the Zelia and Quinny VNC, to create a travel system.
3.How heavy is Maxi Cosi coral?
The innovative modular design combines the highest safety standard with an advanced and easily detachable lightweight soft carrier. The soft carrier, which provides multiple carrying options for more intimacy, weighs just 1.7 kg and is fully upholstered with soft fabrics.
4.How do you use Maxi Cosi coral?
(303) Maxi-Cosi Coral XP Infant Car Seat Review - Babylist - YouTube
5.Why should I buy a rotating car seat? /Are rotating car seats worth it?
One of the main benefits of a rotating car seat is that it makes it more comfortable for you when taking your baby in and out of the car, by having the ability to swivel it around to the car door. This saves having to awkwardly bend over a seat to 
try to unstrap and lift them out
With a growing body of research that supports riding rear-facing as the safest option for babies and children, a rotating car seat can be a good option to ensure you're maxing out the rear-facing weight or height limits of your car seat.
Dimensions
Manuals
Click on the link below to access the manuals:
https://images.maxi-cosi.com/dorel-public-storage-prod/manuals/MC8559_2021_Coral_360_MC_scenariomanual_LR.pdf
How to install and Release Coral 360
How to install your base
How to install and Release FamilyFix 360 Base
How to install your baby
Refences
Maxi-Cosi Coral 360 | Modular baby car seat from birth
Maxi-Cosi Coral 360 Essential Grey Baby Car Seat (lillaviolen.com)
Maxi Cosi Coral 360 – Kids Living
Red Dot Design Award: Maxi-Cosi Coral (red-dot.org)
Review of Maxi-Cosi Coral Car Seat | Maxi Cosi Car Seat Reviews (mybaba.com)
i-size Seats | Child Car Seats
Isofix Seats | Child Car Seats
the Maxi-Cosi Pebble Pro i-size infant car seat from birth to 12 kg, boasts a 4 * safety rating and super compatibility with car seats and prams.
Why Choose the Maxi-Cosi Pebble Pro
Product Description
The Maxi-Cosi Pebble Pro I-Size infant baby car seat has impressive safety features:
Impact-absorbing material
Side Impact Protection
Extra comfort in the specially designed thick inlay
Compatible with both seat belt and iso-fix installation methods
Offers ease of use to parents with their user-friendly baby harness.
What does i-Size stand for?
Safety features of the Pebble Pro
The German Automobile organisation ADAC regularly tests Maxi-Cosi car seats on their safety features as well as ease of use. The Pebble Pro received a 4-star rating by ADAC which confirms the high level of safety built into the seat.
The seat is not only made of impact-absorbing material that can absorb the forces of an impact accident but also has a Side Protection System or SPS system that absorbs forces from a side impact accident.
The extra-padded seat also includes a removable cocoon like inlay that offers extra safety, perfect fit and comfort to your baby.
Compatibility with strollers and bases
The FamilyFix3 bases are compatible with both the Pebble Pro infant seat and the bigger toddler seats, Pearl Pro i-Size. Buy one base for all possible phases in your child's life!
The 3 Familyfix bases as seen in our infographic are all suitable from birth to 18 kg or children of 45 to 105 cm in length.
The Pebble Pro has been approved to use in the airplane with a TUV certification.
The infant seat has a great Click & Go installation method that makes the compatibility between the infant seat and travel system super easy. The seat is compatible with all Max-Cosi, Quinny and other strollers. See our infographic for the names of the brands.
Ease of use:
The infant seat cover can easily be removed for cleaning without removing the harness.
A built-in sun canopy protects your baby against UV rays.
The harness is spring loaded and can be opened with one hand.
The headrest adapts with your growing baby.
It has an additional baby-hug inlay for extra comfort and safety.
Memory buttons that help release the car seat from a Maxi-Cosi stroller.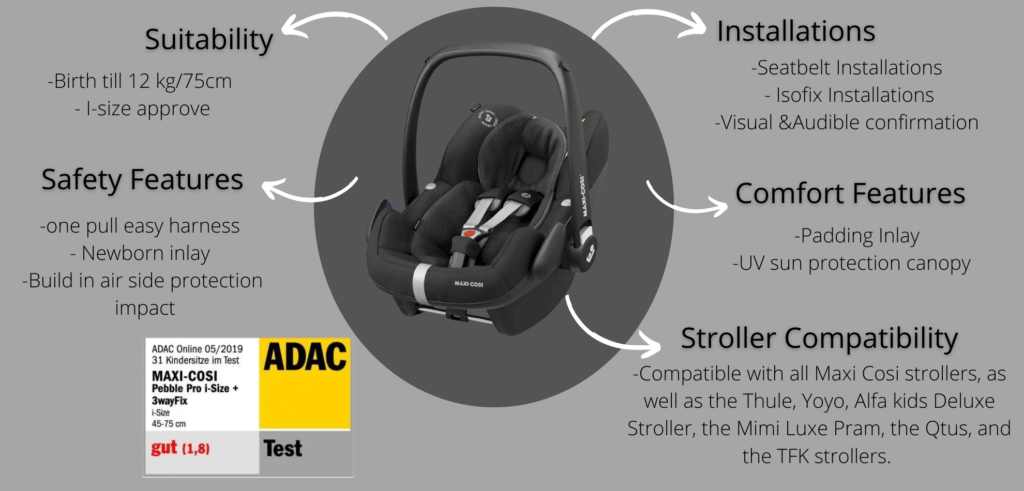 Video of features and benefits
FAQ'S
What is the difference between Maxi-Cosi Pebble and Pebble Pro?
The Pebble Pro is the updated version of the Pebble Plus. The head support of the infant inlay or inner cushion as been improved.
Has the Maxi-Cosi Pebble Plus been discontinued?
The Maxi-Cosi Rock car seat has replaced the Pebble Car seat.
Does Maxi-Cosi Pebble Pro Rotate?
No, the Pebble Pebble Pro cannot rotate. The Maxi-Cosi Pebble 360 can.
Dimensions of the Pebble Pro
How to upgrade my pebble pro
Extra accessories that you can buy for your baby:
Manuals
Click below to find useful manuals on how to install your car seat.
Maxi Cosi Carseat Pebble Pro Manual
How to install with the isofix method
How to install with the seat belt method
References
We give a thanks to this sites that help us with more information:
Maxi-Cosi Pebble Pro – Baby Car Seat
(284) Maxi-Cosi Pebble Pro Car Seat | Natural Baby Shower Demo Day - YouTube
(284) How to fit your Maxi Cosi Pebble Pro with a seat belt - Baby Lady - YouTube
(284) BABYDUMP | Maxi-Cosi Pebble Pro i-Size - YouTube
i-size Seats | Child Car Seats
Isofix Seats | Child Car Seats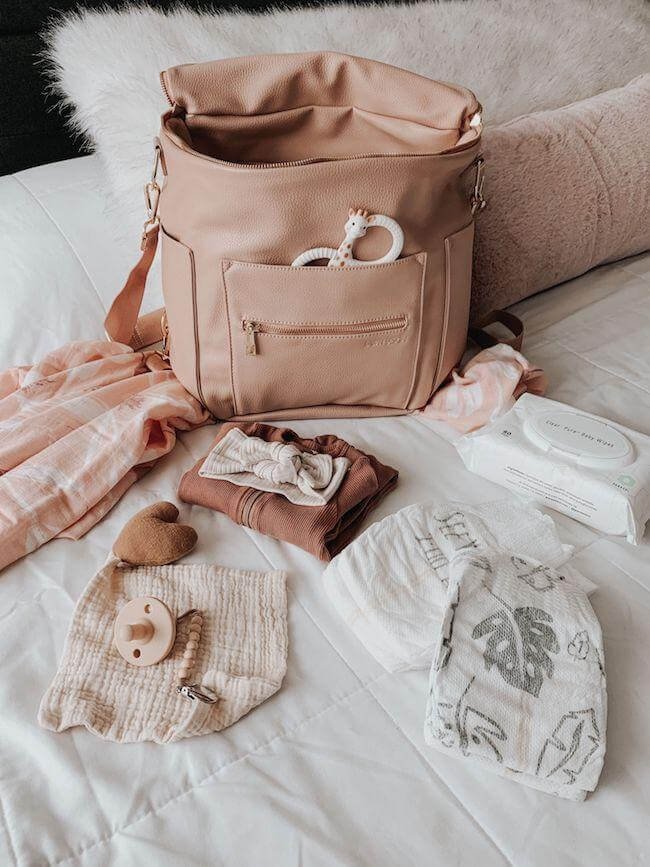 Take The Stress Out with this HOSPITAL CHECKLIST
Packing Checklist for your hospital delivery
Having everything ready and in one place also means if you should go to the hospital now, nobody will need to rush around pulling together an emergency bag for you.
Your hospital bag should contain all the items you'll need during labour and immediately after birth - for both you and your baby.
Any kind of bag will do, although one with extra pockets will be easiest since there'll be lots of items that need to be kept in a safe place.
In this article you will find:
1 . Packing For Mom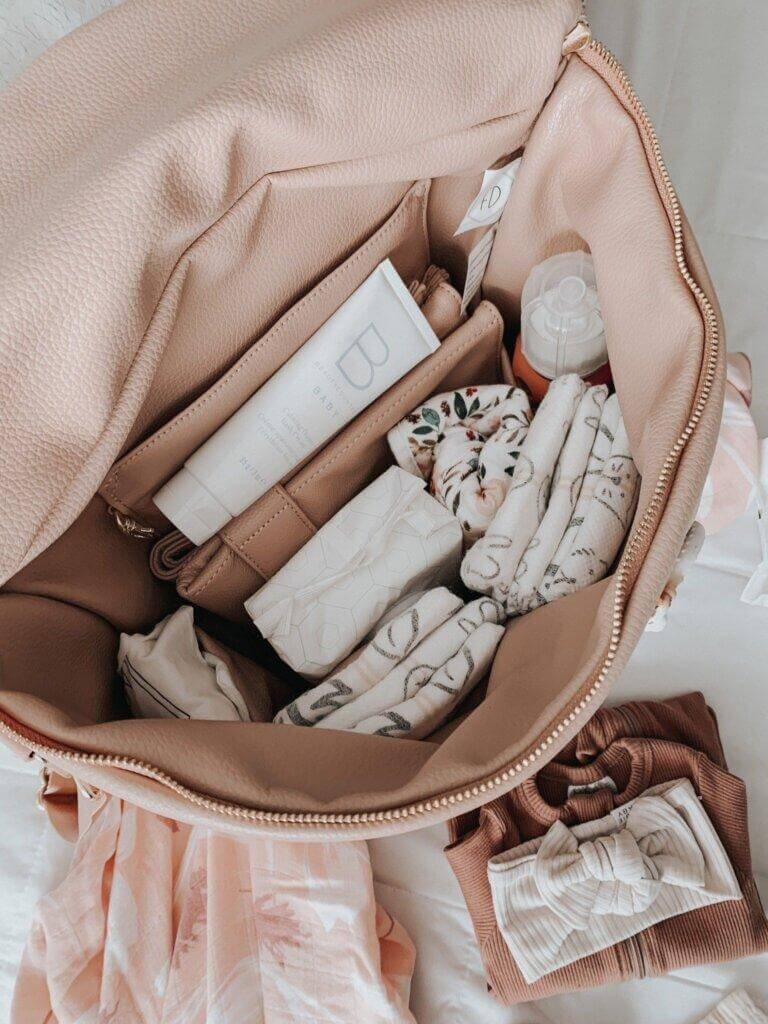 Lightweight, front opening cotton pajama's (one set per day)
Gown
Hairdryer and brush
Mirror
Money (at own risk)
Black pen and copies of ID documents of both parents (for birth registration)
Set of clothes and shoes for going home.
Two face cloths (preferably dark-colours)
All chronic medication, pregnancy vitamins, etc.
Cellphone, charger and double adapter (at own risk)
Camera and charger to capture the special moments (at own risk)
If you are having a normal birth, as opposed to a caesarean, don't forget to bring:
Energy sweets, lip balm and fruit juice
Baby powder/oil for massage
Comfortable T-shirt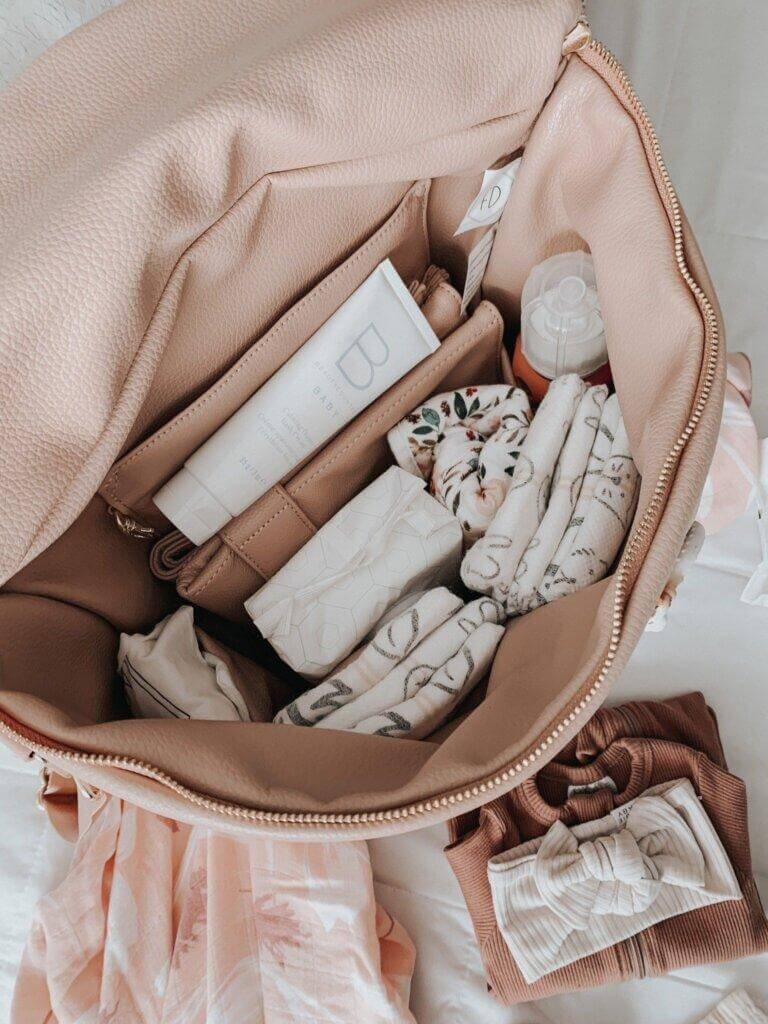 At least Five sets of clean baby clothes; vest, baby grows, wrapper/receiving blanket, socks, beanie
Nursing Pillow - Plonky Donkey or plain snuggle pillow 
One warm blanket
 If you are bottle feeding. Bring your own bottles, teats, formula milk and sterilizing unit if preferred 
Dummy and holder (optional)
A pack of newborn nappies
Petroleum jelly
Surgical spirits
Cleansing lotion
Disposable panties
Don't forget to bring your baby infant car seat. It is essential for when you are driving home after birth
We all know how difficult and exhausting the night feeds can be and a co-sleeper is the answer.
A co-sleeper is an extension of the moms' bed and stands next to the bed or hooks onto the mattress. Mom will be able to keep baby in her bed during the night feeds. There will be no fear of rolling on top of your baby and baby will not need to sleep in your arms. WIN-WIN!
This product is used only for a few months and therefore the rental option is a great money-saving idea.
Benefits of renting this product:
Our co-sleepers are height adjustable and on wheels.
All 4 sides are slatted and made from unpainted or painted pine wood (depending on which option you choose)
The co-sleepers have two functions. The one side can open for easy access, or the same side can be closed to turn the co-sleeper into a crib. It is not attached to your bed but has lockable wheels and stand independently next to your bed. With 4 lockable wheels, it is very safe!
With co-sleepers on wheels, you can move it from room to room.
Quality baby co-sleepers are expensive and are only used for the first 3 to 4 months. It just makes so much more sense to rent this product from us.
Ready to rent? Book online:
Rent Monthly Baby Co-sleeper - Baby House
Shop in store at 5 Bayview Road, Somerset West OR
Online at
https://babyhouse.co.za 
TEL: 021 851 7640 
Support us on Facebook at: https://www.facebook.com/MOMBABYHOUSE/
Support us on YouTube at: The Mom and Baby House - YouTube
Who wants a car seat that converts into a stroller as well? MOST NEW MOMMIES!
Everybody wants a Doona but cannot necessarily afford one. Besides its hefty price tag, baby also doesn't even get to use it for that long! The Doona is only suitable until 13kg and most babies outgrow their infant seats at 6 months already, if not earlier – NOOOO! 
And remember parents: it's not the weight of the child that becomes the problem but instead their height and how quickly those legs grow. When the doona is installed in your vehicle, it's rearward facing and if your baby's legs start kicking against the back seat, it will soon be time to move them into a more comfortable, bigger car seat.
WHY CHOOSE THE DOONA?
If you like to travel or you don't have a lot of space, the Doona is your answer. No more travelling with your entire travel system, forgetting adapters at home or struggling to set up your stroller.
Benefits of renting this product:
You can only use the Doona till "13kg" – short-term product.
You save money by renting instead of purchasing.
The Doona is a car seat/stroller all in one. No need to buy a travel system anymore just because you need the matching infant seat.
Lightweight, compact & stylish.
TUV and FAA aircraft approved for travelling.
Ready to rent? Book online:
Rent Monthly Doona Car Seat & Stroller in one (0 - 13kg) - Baby House
Does your car have isofix? Need the matching base?
Rent Monthly Doona Isofix Base - Baby House
Shop in store at 5 Bayview Road, Somerset West OR
Online at www.babyhouse.co.za
Email: info@babyhouse.co.za
Tel: 021 851 7640
Support us on Facebook at: https://www.facebook.com/MOMBABYHOUSE/
Support us on YouTube at: The Mom and Baby House - YouTube
Sleepless nights? Sore back? Tired of being tired? We've got the solution!
The perspex bath trolley or karibu bath trolley is a must for any new mom adjusting to life with a newborn.
Benefits of renting this product:
This product can double up as a bed and a bath. The karibu is suitable for bathing only
The hospital graded perspex/acrylic bath is the same as that which is used in private hospitals, thus familiar environment for baby to sleep in and brings you comfort
The bath trolley stand saves you from bending over uncomfortably by the bath
Brings relief for C-section moms that cannot pick up heavy things or bend over
The bath trolley is on wheels which means you can move it easily from one room to another 
Knock-down frame which makes transportation easier
Compact enough to place next to your bed to keep baby close by during the night
RENT this item and SAVE MONEY! This is a short-term product that only lasts from birth to 7kg/0 - 3 months. 
For safety reasons your child should not be using it after that weight/age.
This rental will help you to find a routine with your little one whilst giving them a sleeping and/or bathing solution.
Ready to rent? Book online:
Rent Monthly Hospital Bath / Bassinet Trolleys With Perspex Bath - Baby House
OR
Rent Monthly Hospital Bath / Bassinet Trolleys With Karibu Bath - Baby House
Shop in store at 5 Bayview Road, Somerset West OR
Online at www.babyhouse.co.za
Email: info@babyhouse.co.za
Tel: 021 851 7640
Support us on Facebook at: https://www.facebook.com/MOMBABYHOUSE/
Support us on YouTube at: The Mom and Baby House - YouTube
Travelling with the family? Expecting visitors? Or do you just need a product to keep you and baby sane?
RENT BABY GEAR from us! Good for your wallet, even better for the environment!
How does our rental process work for locals?
1) Go onto our website: www.babyhouse.co.za
2) View our different categories
3) Select our Weekly rentals or Monthly rentals (depending on how long you need to rent)
4) Click on "SHOW SIDEBAR" to view all SUBCATEGORIES
5) Select the items you wish to rent
6) Scroll down until you see "Booking Form"
7) Enter your dates and click on "booking"
8) Select "view cart"
9) Once your billing or shipping information has been filled out, you will then have the option to choose "pick up from shop" or "delivery".
10) Once all of your personal information has been filled in and you have electronically ticked off the boxes by the rental contract, you will be able to process your payment.
We have a variety of payment options: Payfast, Mastercard, and instant EFT.
If you do not come right on our website for whatever reason, you are welcome to send us an email with your requirements to info@babyhouse.co.za or call us at 021 851 7640 and we will send you a rental contract and invoice to process.
RENT in store at 5 Bayview road, Somerset West OR
online at www.babyhouse.co.za
Emal: info@babyhouse.co.za
Tel: 021 851 7640
Support us on YouTube at:
https://www.youtube.com/channel/UCAiHCae5SMAEFr5jdB5hGEA
Planning a family trip to Cape Town?
Rent baby gear and travel in style & comfort!
Travelling can be stressful. Add a crying baby, energetic toddler & trying to carry your luggage with additional strollers, car seats, toys...ugh just thinking about it all is exhausting!
Instead, rent baby equipment from us and enjoy your trip!
No matter where you travel, you will most likely need a car seat for baby, a suitable stroller for indoors or outdoors and a safe sleeping option such as a co-sleeper, camp cot or wooden cot (depending on age of the little one).

Travelling to sunny Cape Town? You most definitely then want to invest in renting a baby hiking carrier or all terrain jogger.
Advantages of renting from The Mom & Baby House:
- We make use of a personalized courier company that delivers directly to Cape Town International Airport
- Book your rental dates with ease on our e-commerce website:
https://www.babyhouse.co.za/product-category/rent-baby-gear/
- All of our rental products are quality checked, sanitised and deep cleaned with K-archer machines (99% effective in killing all bacteria & viruses)
- Don't know what to rent? Fear not! We provide expert advice and will guide you in choosing a rental product that is best suited for your child's needs
- We have a wide selection of products.
- We rent out the specific product you select on our website that has actual photos of the product and it's condition. No more guessing based off of an internet photo!
Advantages of renting baby gear:
- Entertainment toys & educational toys can be brought along for the trip instead of that massive double stroller you were planning on bringing.
- More space in your rental car's trunk for daily activities and the occasional shopping spree.
- You get to try out new baby and toddler gear without having to buy it.
- Baby equipment rental companies thoroughly clean their baby gear as they specialize in providing this service.

RENT in store at 5 Bayview road, Somerset West OR
online at www.babyhouse.co.za
Email: info@babyhouse.co.za
Tel: 021 851 7640
Support us on YouTube at:
https://www.youtube.com/channel/UCAiHCae5SMAEFr5jdB5hGEA
When to change the latest from an infant carrier to the toddler seat?
Step 1: Check the weight/height limitation of your seat
If your infant carrier is approved to ECE R44-04, then your seat has a maximum weight based on its approval. This maximum weight must not be exceeded. But this does not mean that you can always use your infant carrier until you have reached this maximum weight, often babies outgrow their seat in height before they reach the weight. For this, check step 2!
If your infant carrier is approved to UN R129, then it has a maximum height given by its approval. This maximum height must not be exceeded. In most cases, the maximum height marks the end of when you can use the seat, but in addition, also check step 2!
Step 2: Check the shoulder belts and distance to the top of the seat
When the uppermost point of the baby's head is approx. 2 fingers away from the highest point of the seat shell, you should change to a toddler seat. Ideally, you should look for toddler seats already some time before your baby has reached this point. This 2-finger-distance is recommended since it includes a "buffer" for upwards movement in case of an accident. Such a movement can happen if the belts are not perfectly tightened. Even though we know that parents do their best to always tighten the belts correctly, it can happen – when in a rush or if the baby moves a lot – that the belts are not as tight as they should be.
Additionally, check how the shoulder belts are sitting on your baby's shoulders and what your seat's user manual advises about this. Most manufacturers say that the shoulder belts should not come from below your baby's shoulders. So if the shoulder belts are not coming straight onto the shoulders anymore when having the headrest/belts in the highest setting, then it's time to change as well.
You may need to switch even if your child has not reached the maximum weight. For optimum safety, you'll need to move up to the next car seat stage when the top of your baby's head comes up over the seat back. Tip: put your hand on the top of the back-seat, does the top of your baby's head touch your hand? Time to move up to a new car seat!
Don't be tempted to switch to a forward-facing car seat too soon. At Maxi-Cosi, we recommend that your child continues to travel in a safe rearward-facing position for as long as possible or at least up to 15 months.
SUMMERTIME! 🍉☀️💦
The Christmas beetles are singing & the sun is shining brightly each day - perfect for outdoor strolls with your little one. However, do you really NEED a jogger to do this?
Well, let's firstly look at the difference between a jogger and a stroller:
Joggers: they are strong and durable - made for stability and to take a heavier weight. They often have fixed front wheels for better control, suspension for all terrain and tough wheels. They also tend to be wider and bigger than your typical stroller.
Strollers: they are lightweight and compact at the very least. Their wheels are smaller for this reason and their frame's slimmer. They are ideal for indoor experiences and outdoor walks from time to time in the neighbourhood.
So, when do you then NEED a jogging stroller? FOR RUNNING 🏃
No matter how you look at it: you can't run with a normal stroller.
Not only are you going to struggle to push the stroller but it will be uncomfortable for your child too. Strollers are simply NOT built for speed and all terrain surfaces.
Joggers are made for intense speed and uneven surfaces. They have 3 wheels in a triangle configuration that helps them to glide over rough terrains and a suspension system that allows them to absorb and decrease impacts of sudden 'shocks' on your baby.
If you find yourself in a dilemma, wanting a stroller strong enough for outdoors adventures but compact enough to use for every day life, there are a few options on the market that double up.
They can be difficult however to find or pin point. For this reason, reach out to us and we will help you find the perfect jogger or stroller or both for you!
You can rent these products from us for the weekend or buy it from us.
Shop in store at 5 Bayview road, Somerset West
online at www.babyhouse.co.za
Email: info@babyhouse.co.za
Tel: 021 851 7640
Support us on YouTube at: