The award-winning Joie Spin 360 turns in multiple directions due to the Isofix base and load leg. It is suitable from birth to 18 kg rearward facing and forward facing or the length of a child of 40 to 105 cm. A steel frame and heavier than usual seat weight plus a 5-point harness make the Joie Spin 360 super safe for your precious baby.
Table of Contents
Why Choose The Joie Spin 360?
Joie is all about marrying functionality and beauty. The Joie Spin 360 is the perfect example of this!
It is a great choice if you want a car seat that's all about comfort and convenience.
Thanks to the rotating feature and built-in isofix base, installation is now easier than ever.
No more back aches or climbing into your vehicle, as you can effortlessly swivel the car seat to face you with a single press of a button.
This car seat also comes with a thick, plush padding that will provide more than sufficient support for a smaller baby. For a newborn, that has outgrown its infant car seat but that's too small to face forward, this is an ideal choice.
The Joie can recline very deep when in a rearward-facing position which makes for a comfortable experience for your little bundle of joy when taking a nap during car rides - this could be a saving grace for you!
Besides the convenient features that come with this car seat, it's a beautiful sight to look at with its different shades of grey.
Description
The Joie does exactly what it says: Spins!
This car seat effortlessly rotates on its base and can face either side, depending on which side of your vehicle it is installed.
The rotating feature of this car seat also allows for easy access to adjusting your child's harness, headpiece or the thick, plush padding included.
The Joie is easy to install thanks to the built-in isofix base and load leg. With 5 different reclining positions, an adjustable headrest, and all-around plush padding, comfort is promised for your baby.
The Joie is also a reasonably priced swivel car seat in comparison to other options on the market - an added bonus.
Features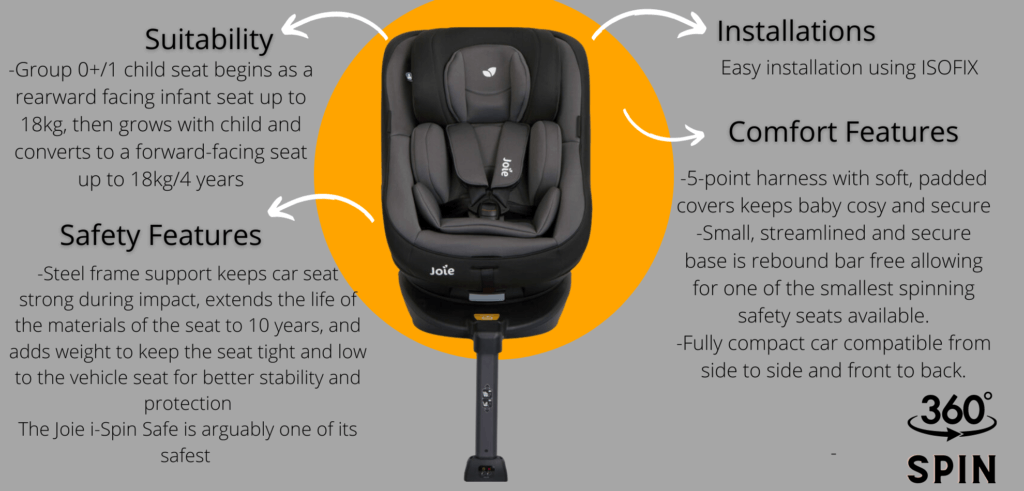 Specifications And Dimensions
Model: C1416
Product Dimensions Forward Facing: l 55 x w 45 x h 67.1-76.5cm
Product Dimensions Rearward Facing: l 66.1-69 x w 45 x h 56.8-63.3cm
Base Dimensions: w 40 x h 28.5 x w 48cm
Product Weight: 11.95kg
Product Usage: birth to 18kg
Testing Certification: ECE R44/04
Manuals
p-im0247e_1_spin-360-global-im_20170302.pdf (joiebaby.com)
How To Install The Joie Spin 360
Joie Spin 360 VS Maxi Cosi Axiss Fix Plus
JOIE SPIN 360
A 360º turning car seat that spins rearward, forward and everywhere in between. One hand turn activator makes every trip and transition easy.
---
Group 0+/1 car seat
Suitable rearward facing from birth to 18kg/4 years
Suitable forward facing from 9kg to 18kg/4 years
360° rotating seat makes an easy in, easy out system
5 recline positions can be used both rearward and forward facing
Grow Together™ multi-height headrest and harness system adjust simultaneously and require no re-threading of harness
MAXI COSI AXISS FIX PLUS
The swivel toddler car seat
---
360° seat rotation to facilitate baby installation
Simultaneous safety harness & headrest adjustment
Central selection dashboard to easily switch from rear to forward-facing mode
Height indicator: shows when to switch from rear to forward-facing
2 smart belt hooks: facilitate child installation by maintaining the harness wide open
One-hand harness adjuster
i-Size safety (R129): complies with the latest car seat regulation including the highest demanding safety criteria
Cozy safety inlay to cocoon the newborns safely
AWARDS WON
FAQs
1. What is the Joie Spin car seat?
The Joie Spin 360 car seat is an award-winning car seat that can rotate 360 degrees, allowing for easy access and transitions between rear-facing and forward-facing modes.
2. What are the features of the Joie Spin Car Seat?
The Joie Spin 360 car seat features a 360-degree rotating seat, multiple recline positions, adjustable headrest, and a five-point harness system. It also includes side impact protection and a steel reinforced frame.
3. What age range is the Joie Spin suitable for?
The Joie Spin 360 car seat is suitable for children from birth to approximately 4 years old, with a weight range of 0-18kg.
4. Is the Joie Spin easy to install?
Yes, the Joie Spin 360 car seat comes with an easy-to-follow user manual and is designed to be easy to install with a simple and secure installation using ISOFIX or a seatbelt.
5. What awards has the Joie Spin Car Seat won?
The Joie Spin 360 car seat has won several awards, including the Best Baby and Toddler Gear Gold Award for Best Rear-Facing Car Seat and the Mother & Baby Gold Award for Best Car Seat 9-18kg.
6. Can the Joie Spin Car Seat be used for travel?
Yes, the Joie Spin 360 car seat is approved for use on airplanes, making it a great option for families who travel frequently.
7. Is the Joie Spin easy to clean?
Yes, the Joie Spin 360 car seat features a machine-washable cover, making it easy to keep clean and maintain.
CONCLUSION
In conclusion, the Joie Spin 360 is a great swivel car seat on the market to consider.
It's one of the most user-friendly car seats with its rotating feature, and remarkably smooth when turning 360 degrees. The car seat is simplistic in terms of installation and easy on the eyes.
It's definitely suitable to use for a newborn with its impressive layers of padding which can easily be removed as the baby grows older.
All in all, this is one of our favorite 360 car seats. It's practical, stylish, and safe! It ticks off all of the right boxes.
Recommended Reading
REFERENCES
1.) (366) Fitting a InfaSecure Red Clip - YouTube
2.) Joie Stages | Group 0+/1/2 Car Seat | Explore Joie (joiebaby.com)
3.) Facebook rearfacing
4.) Blue clip thing. Lock off clip? | BabyCentre
5.) Blue Locking Clip - SPC0925-005BC (joiespares.co.uk)
6.) Joie Stages Car Seat Coal Group 0+/1/2 - Baby Boom Online | South Africa's Most Affordable Baby Store
7.) ADAC Car Seat Test Results Spring 2021 – Baby & Co Bristol (babyandco.com)
8.) Review: Joie stages Review (pushchairexpert.com)
10.) Is Isofix safer than a seatbelt? | T3
YouTube: https://www.youtube.com/c/TheMomandBabyHouse
Facebook: https://www.facebook.com/MOMBABYHOUSE
Instagram: https://www.instagram.com/mombabyhous...
Website: