Introducing the Maxi-Cosi AxissFix Plus, a top-rated 360-degree car seat that puts safety and convenience at the forefront.
Discover why it's considered one of the best choices for your child's protection on the road.
Why Choose the Maxi-Cosi AxissFix Plus
Maxi-Cosi AxissFix Plus is a testament to Maxi Cosi's innovation as brand and has more than 30 years of car seat research behind them, this car seat is all about making your life easier as a parent thanks to its rotating function.
The car seat effortlessly swivels 360 degrees which allow easy access when placing your child securely in the car seat.
Description
The Maxi-Cosi AxissFix Plus complies with the latest i-Size regulations and allows your child to face rearward until 87cm. This car seat can be used from birth, thanks to its plush and thick newborn insert, up until 2 years of age.
It is recommended out of a safety point of view that children face rearward up at least until 15 months of age.
For this reason, the Maxi-Cosi Axiss Fix Plus will assist your child, when facing rearward, with protecting their head, neck, and spinal cord. This could potentially save their life in the event of a side or front impact.
When considering car seat options, you always want to look at safety specs first!
EASE OF USE
The Maxi-Cosi AxissFix is installed using Isofix and a top tether strap. The tether strap does not interfere with the rotation of the car seat - unlike many other options on the market. For this reason, this car seat is easy to use. Instructions on the car seat are also clear and easy to follow which makes a big difference.
COMFORT
This car seat will be comfortable for any child as it is well padded and comes with thick, plush padding. The material is soft enough to not irritate the skin but durable enough to last in the long term. Best of both worlds!
SAFETY
The Maxi-Cosi AxissFix allows for secure installation due to its Isofix and top tether attachment.
The car seat complies with the latest i-Size regulations, it has indicators that assist you with the correct installation of the isofix anchor points and the car seat has impact-absorbing material which provides additional safety in the event of an impact.
This car seat meets top safety requirements.
GENERAL
Rear-facing from 61 to 87 cm (approx. 4m to 2y).
Forward-facing from 76 to 105 cm (>15m to approx. 4y).
Compact design to fit smaller cars.
Rotates 360 degrees for easy access.
Isofix and top tether attachment for secure installation.
How can I wash the Maxi-Cosi AxissFix cover?
DIMENSIONS
FEATURES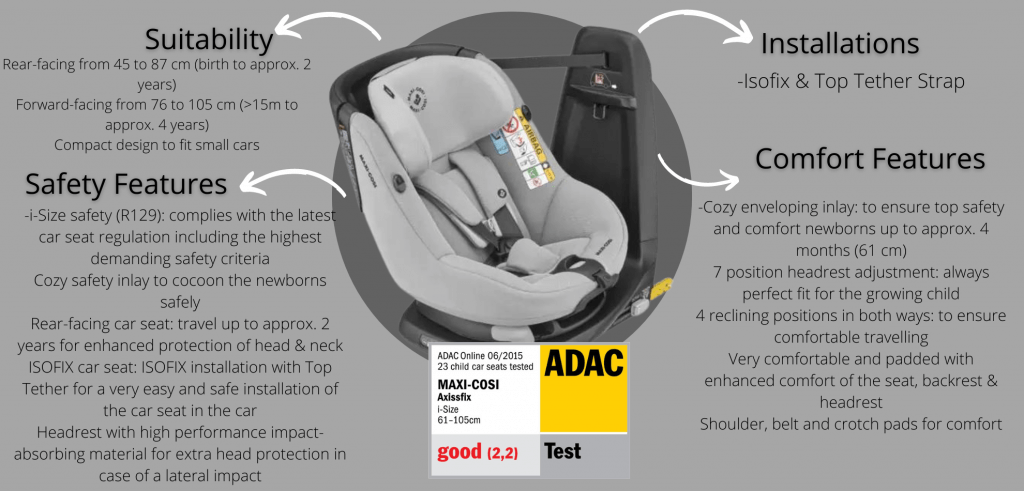 MANUALS
https://img.maxi-cosi.com/dorel-public-storage-prod/manuals/MC8020_2018_maxicosi_carseat_Axissfix_scenariomanual_014802084_LR.pdf
HOW TO INSTALL THE MAXI COSI AXISSFix
CONCLUSION
In conclusion, the Maxi-Cosi AxissFix car seat offers optimal safety for children between 4 months - 4 years of age due to its extensive list of safety features. This car seat is innovative in design with its rotating function and provides peace of mind to parents across the globe.
The Maxi-Cosi Axiss Fix Plus is a functional, practical, safe, and aesthetically pleasing car seat to consider. In our opinion, this is one of the top car seats in terms of quality and safety.
FAQ'S
What is the difference between Isofix and Isofit?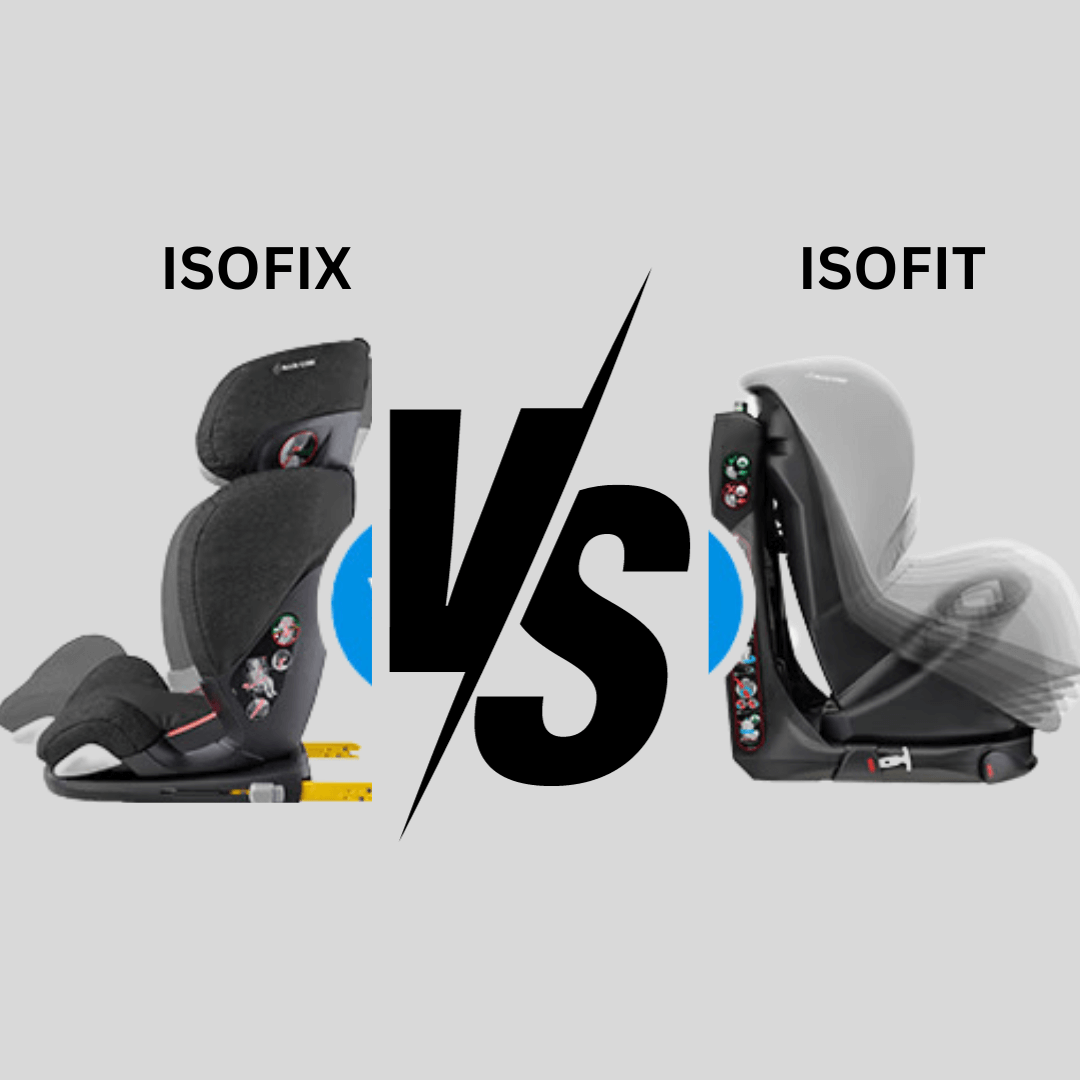 1. Isofix:
Isofix is a standardized system for attaching child car seats directly to the vehicle's chassis. It is also known as LATCH (Lower Anchors and Tethers for Children) in North America.
Isofix uses fixed anchor points in the vehicle, typically located in the gap between the vehicle's seat cushion and backrest. These anchor points are metal bars or rings that are permanently attached to the vehicle's frame.
The child car seat is equipped with Isofix connectors, usually in the form of rigid, U-shaped hooks, which securely attach to the anchor points in the vehicle.
Isofix connectors make installation easier and reduce the risk of improper installation since they minimize the need for seat belts or other methods of securing the car seat.
2. Isofit:
Isofit is a system used in some booster seats to secure them in the vehicle. It is not as widely used or standardized as Isofix.
Isofit does not involve anchor points in the vehicle. Instead, it relies on the vehicle's seat belt to secure the booster seat and the child.
Isofit boosters have arms or connectors that are designed to guide and position the vehicle's seat belt correctly over the child's shoulder and lap, providing a safe and secure fit.
The primary purpose of Isofit is to ensure that the vehicle's seat belt is used properly with the booster seat to restrain the child safely.
Can I swivel the Maxi-Cosi AxissFix/AxissFix Plus when it's in recline position?
Yes, you can swivel the seat when reclined. It will be tight, however, and after time it will damage the back of the seat.
What is IsoFix?
Isofix is the international standard for attachment points for child safety seats in passenger cars. The system has other regional names including LATCH in the United States and LUAS or Can fix in Canada. It has also been called the "Universal Child Safety Seat System" or UCSSS. Wikipedia
What's the difference between Maxi-Cosi AxissFix and AxissFix plus?
The Maxi-Cosi AxissFix can be used from birth. Whereas the Maxi-Cosi AxissFix is suitable for children from 61cm to 105cm (approx. 4 months to 4 years).
Is the Maxi-Cosi Axiss rear-facing?
Yes, the Maxi-Cosi Axiss is rear-facing. The maxi Cosi axis fix plus has the latest European i-Size safety standard for improved side impact protection. This means the AxissFix Plus offers optimal head, neck, and body protection while enabling up to 87 cm (approx. 2 years) of rear-facing travel, which is considered the safest position for your child.
REFERENCES
Maxi-Cosi AxissFix IsoFIX Carseat - Baby Depot
Maxii-Cosi AxissFix - the new i-Size swivel toddler car seat (maxi-cosi.com)
Maxi-Cosi AxissFix Plus car seat review - Car seats from birth - Car Seats - MadeForMums
Indemnity
This information is provided for educational and entertainment purposes only. We, The Mom & Baby House cc (www.babyhouse.co.za) do not accept any responsibility for any liability, loss or risk, personal or otherwise, incurred as a consequence, directly or indirectly, from any information or advice contained here.
Follow us on social media at:
Instagram:
Facebook: https://www.facebook.com/MOMBABYHOUSE
Share with your friends & family