Renting a baby car seat from a rental company? -or from a car rental? Think twice!
"A car seat reduces the risk of your child dying by up to 71% and reduces the need for hospitalization by 69%." (Reviews of evidence regarding interventions to increase use of child safety seats - PubMed (nih.gov))
Nothing is more important than the safety of your child, therefore you need to know all the facts.
We constantly see the following mistakes when renting a baby car seat:
new-borns not seated in infant car seats
one-size-fits all seats
360 spin seats that cannot spin
forward-facing car seats and,
broken seats with strange installation methods.
Our blog will cover how to:
choose the correct rental baby seat
quality check the car seat
renting a baby car seat from the right business and,
install the car seat correctly.
---
Table of Contents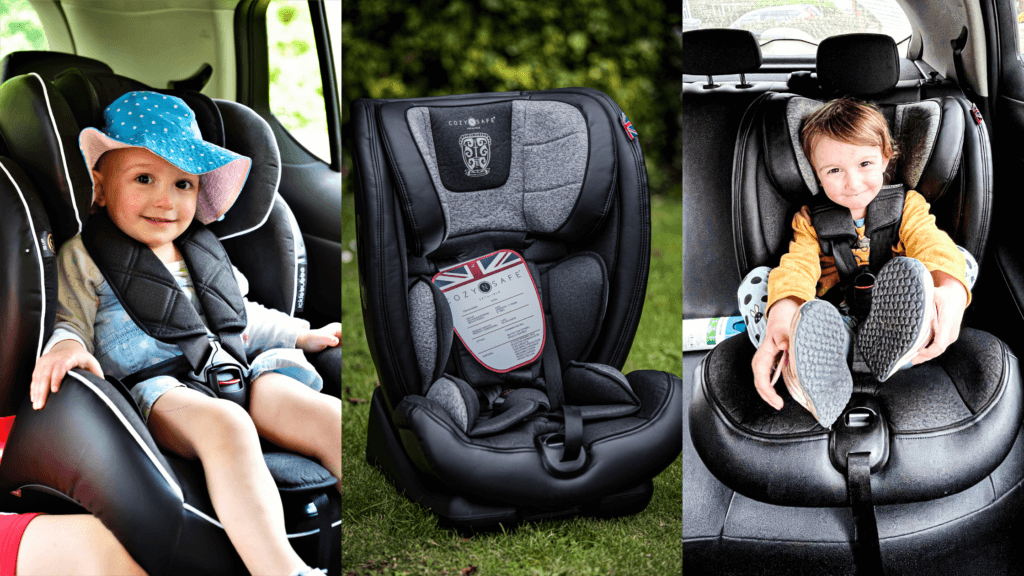 ---
Renting a baby car seat checklist
1. Do not rent a one size fits all rental car seat. Make sure the staff provides you with the correct car seat; weight according to (ECE R44/04) or correct height according to (R129) i-Size safety regulations
2. Do not rent a combination car seat for your Newborn
If you have an infant, only rent an infant car seat with a base. Preferably an Isofix base to prevent installation mistakes.
The reasons are discussed in point 7 below.
3. One method of installation: If the seat is a true Isofix seat it should only need one method of installation and that is an Isofix installation.
1) Use the top tether strap and two rigid anchors or
2) Use the load leg and two rigid anchors.
If you need to use the belted method of installation and the Isofix installation as stated in points 1) or 2) we call this a double installation method. This method of installation takes double the amount of installation time, is too difficult for clients to do and will lead to installation mistakes.
4. Make sure the ECE or I-Size stickers are displayed on your car seat.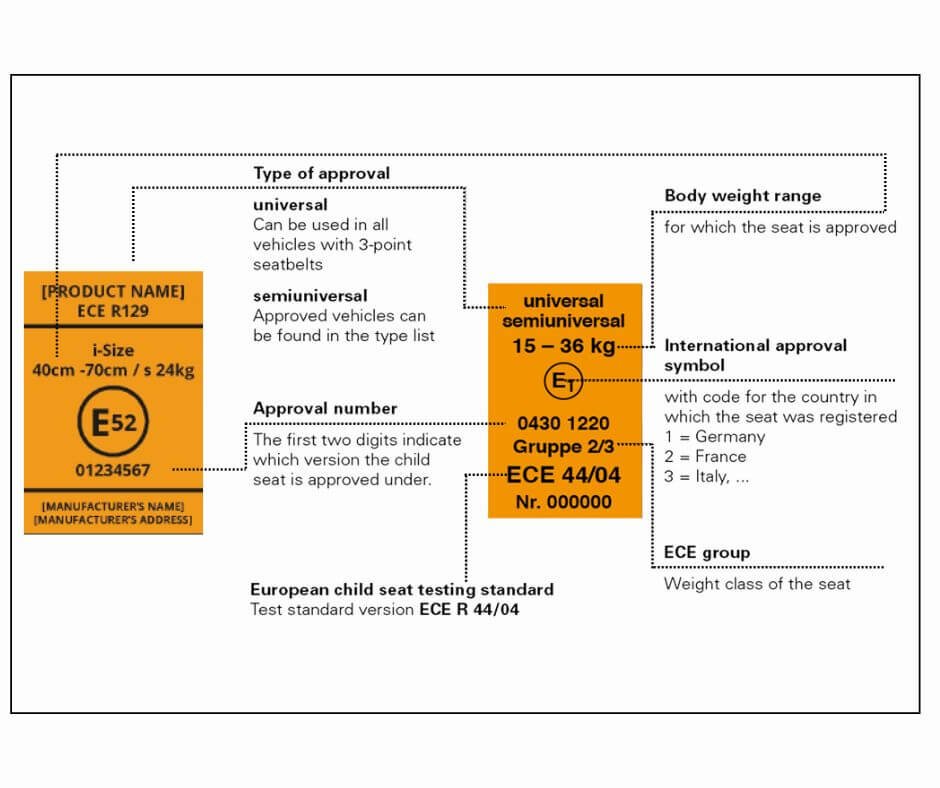 5) Installation instructions should be easy to read and understand. Well-known and respected brands, like Maxi-Cosi, Nuna and Britax have easy and straightforward installation instructions.
6) The seat should look and smell clean and preferably be sealed in a plastic bag to prevent dust.
p.s. Seats rented from us are cleaned with non-toxic agents that are baby safe and seats are safety checked by trained staff members.
7) Installation videos: when you rent a car seat from us, you can find its respective installation video on our website - no need to search for it on YouTube.
8) Are baby car seats the rental companies' main business focus or just an add-on service?
It is paramount that the company focuses and specializes in baby car seats in order to protect you against the many concerning issues.
Baby car seats are our main focus and business.
9) Read their reviews, the date of their most recent reviews and the quality of reviews.
We have more than 80 positive reviews on our Facebook page and a 4.8 rating on Google.
10) How knowledgeable is the company?
11) Do they stock many choices of car seats, suited for every separate age category?
We stock 75 different baby car seats such as:
We only stock world-renowned brands; Cybex, Chicco, Maxi-Cosi, Nuna, Joie, etc.
---
Renting a baby seat at the Airport
The Mom & Baby House offers a convenient delivery and collection service to and from Cape Town International Airport. Whether you rent a car from a car rental company or not, we will deliver your rental car seat to any designated location.
Please note we are one of the only companies with courier services that assist customers at the airport. Many other rental and courier companies do not offer this service.
---
Types of baby car seats
It's important to make sure you have the correct car seat for your child, and there are several different types available:
1. Infant car seats and bases: birth to 13 kg (rear-facing position)
2. Multi-positional or child car seats: birth to 36 kg (rear-facing and forward) Typically a one size fits all seat.
3. Booster car seats: 15 to 36 kg (forward-facing)
4. The above car seats can be either Isofix or non-Isofix/belted car seats.
We stock:
ECE R44/04 weight-based seats: Infants, rear and front-facing Convertible seats and Booster seat
I-Size (R129) height bases seats: Infants, rear and front-facing Convertible seats and Booster seats.
---
Pros and cons of renting a baby car seat versus buying
If you are traveling just for holiday, you need to consider renting. Many grandparents with children overseas like the idea to rather buy a car seat instead of renting one.
We understand that they are trying to make life easier by always having seats ready when the children come to visit.
However, we know from experience that children outgrow rather quickly their current car seats and that an upgrade to the next phase of the car seats is necessary.
---
How to choose the right car seat : video
The type and model of your rental car will determine what type of car seat you need to rent; non-Isofix/belted or Isofix baby car seat.
Know the height and the weight of your child.
If you cannot remember which car seat is the most suitable for your child, refer back to this blog and save our infographics on your Pinterest for quick reference.
How to not choose the wrong car seat
Do not choose a combination or one size fit all car seat.
Do not choose for your Newborn any other car seat but an infant seat with a base.
Do not choose car seats that need double installation methods in other words seats that need you to do a baby seat installation with the car's safety belts as well as all 3 Isofix anchor points.
Do not choose a car seat that is not a true 360-spin car seat. In other words, seats that you can only spin when you undo the top tether straps. This can result in incorrect installation with each attempt.
---
Should I rent an infant seat or a combination seat?
If you have an infant that weighs under 13 kg or that's shorter than 85cm in height, you should always rent an infant seat with a base. Why?
1) Ergonomically it is the only car seat suitable for a Newborn and specifically for the spine of an infant.
2) The reclining angle or position is specifically for an infant.
3) The width of the seat belts are designed to fit the shoulders of an infant.
4) The padded inserts are very important for the infants shoulders and neck.
"Combination seats suitable for Newborns and toddlers are not recommended, because the requirements for a Newborn baby and toddler are fundamentally different, says the AA." www.mediclinicinfohub.co.za
5) Infant seats are the only seat that can be carried around and be taken everywhere. It can snap into a stroller frame or a travel system for easy shopping and walks outside.
We are one of the few car rental businesses that offer rental infant car seats.
---
Renting a true 360-Degree spin Isofix seats:
It is important if you would like to rent a luxury Isofix seat that offers a 360 spring functionality that you only rent a true 360 spin. Only seats that do not have top tether straps and that are on a base can offer you this. We at The Mom & Baby House will only offer you a true spin seat like the Maxi-Cosi Axiss Fix Plus and Nuna Rebl car seats.
The hiring of Isofix baby seats
If you can rent an Isofix car or have an existing Isofix car, you are able to rent an Isofix car seat.
Isofix baby seats are not necessary from a structural point of view, but it is safer because they can prevent and decrease the risk of incorrect installation.
The latest data suggests that 70% of all installations done by parents are not correct. This is a huge number.
---
Isofix baby seat installation
Isofix car seat installations are much easier and quicker to do. Make sure that 3 points are secured namely;
1) the load leg and the two anchor points at the back of the baby seat or at the back of an infant seat base
2) the top tether strap and the two anchor points at the back of the baby seat. Infant seats have only load legs and no top tether straps.
---
Safety Regulations and baby seats:
It's important to remember that car seat safety is paramount when it comes to transporting babies and children in vehicles.
That's why it's important to make sure you have the right car seat for your child's age, weight, and height.
the European Union has implemented the ECE R44/04 safety standard, which all car seats must meet.
It is important to check the car seat for this certification, as well as for any other safety features it may have.
---
Seats that we offer
---
Summary of what we offer
1. Our car seats are top brands like Joie Stages FX, Noola Osann 360, Maxi-Cosi Axiss Fix Plus, Maxi-Cosi Milofix, Maxi-Cosi Tobi, etc., so you know they'll have all the features you need for your child (including ISOFIX attachment points, which are required in many countries).
2. We deliver right to your hotel or airport! No lugging heavy strollers around and trying to find somewhere to leave them when you get where you're going—just pick them up and go!
3. Our baby's equipment is clean. We clean our seats with non-toxic cleaning products, and every car seat is safety checked before it is delivered to you. Your car seat will be delivered in a thick plastic bag sealed for hygiene reasons.
4. Our customer service team with 27 years of experience is available should you have any questions or concerns about your car seat before, during, or after your trip.
5. Our seats include detailed instructions on every seat so that you know how to use it properly and safely for your child's age and weight range.
6. Our seats have been rigorously tested by independent laboratories and certified by the European ECE R44/04 standard for use in Europe. We also offer i-Size car seats that adheres to the improved R129/i-Size
7. We have been providing travel safety products for 27 years, and we stand behind our products 100%.
8. We also offer i-Size car seats that adheres to the improved R129/i-Size Safety Standard introduced in 2013 in Europe.
9. You can find all installation videos on our website.
---
Conclusion
In our 27 years of experience, we have seen it all, the good, the bad, and the ugly of baby seats and the rental of baby seats.
The industry of rental baby seats is rife with inferior car seats and car seat maintenance that is completely inadequate. I am firstly a mother and secondly a small businesswoman.
Safety will always come first and profits second. Contact us for any questions or concerns you may have.
You can find us always online on our many platforms.
This information is provided for educational and entertainment purposes only. We, The Mom & Baby House cc (www.babyhouse.co.za and www.mombabyhouse.com) do not accept any responsibility for any liability, loss or risk, personal or otherwise, incurred as a consequence, directly or indirectly, from any information or advice contained here. The Mom & Baby House (www.mombabyhouse.com) may earn compensation from affiliate links in this content.
References
Child Car Seat Safety | Western Cape Government
An Overview of Anatomical Considerations of Infants and Children in the Adult World of Automobile Safety Design - PMC (nih.gov)
Cervical spine injuries in children: attention to radiographic differences and stability compared to those in the adult patient - PubMed (nih.gov)
Cervical spine trauma in children: a review - PubMed (nih.gov)
Why Rear Facing: the Science Junkie's Guide - Car Seats For The Littles (csftl.org)
New child passenger safety seat guidance advises kids to ride rear-facing as long as possible; drops age criterion | AAP News | American Academy of Pediatrics
Child car seats: the law: Using a child car seat or booster seat - GOV.UK (www.gov.uk)
UK child car seat, booster seat and baby seat laws explained | Auto Express
New study shows: children's safety in the car is not sufficient (besafe.com)