Welcome to this guide to explore the wonderful world of Chelino, a trusted name in the realm of baby products.
As parents, caregivers, or guardians, choosing the right baby products is paramount to ensure the safety, comfort, and happiness of our little bundles of joy.
We will be taking a look at some of Chelino's finest offerings. At The Mom and Baby House, we offer a range of Chelino products, from strollers to car seats, which we will get into in this blog.
So, let's embark on this exciting journey of discovery together and embrace the world of Chelino with open arms.
Table of Contents
Introduction
Welcome to Chelino: The Ultimate Baby Brand Guide.
With Chelino's reputation for providing quality and reliable products, we embark on a journey to discover the essence of this brand and the offerings that have won the hearts of parents worldwide.
Whether you are a first-time parent or seeking to upgrade your baby gear, this guide aims to provide you with valuable insights and information to help you make informed decisions for your precious bundles of joy.
We also advise parents to read our comprehensive blogs about Chelino prams and Chelino car seats.
About Chelino Baby
Is Chelino a South African brand?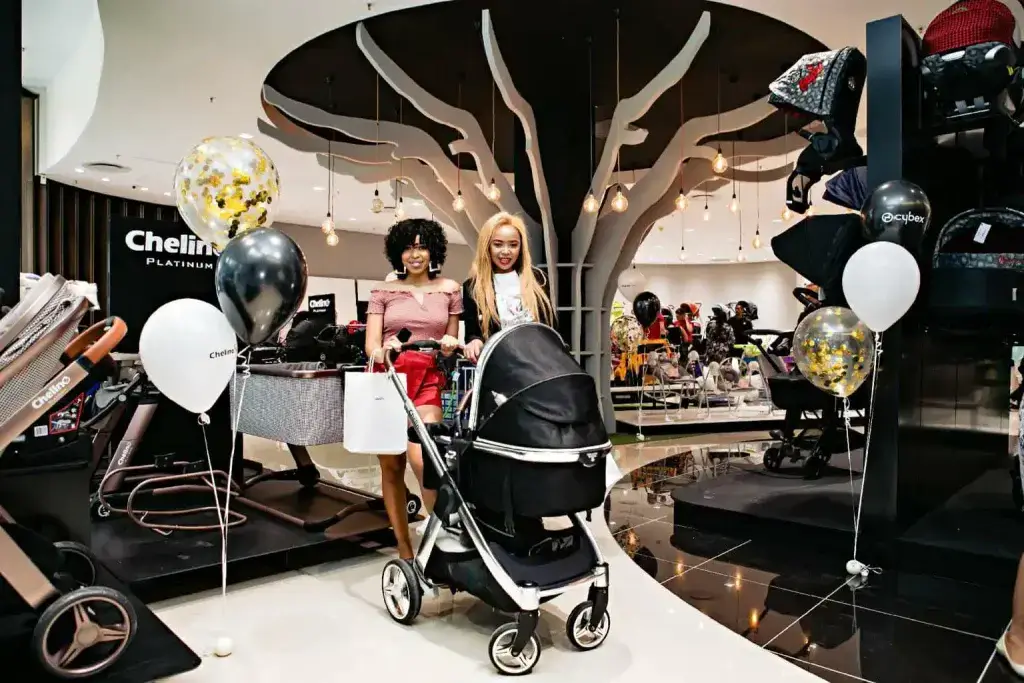 Yes, Chelino is a South African baby brand. It was founded in 1986 in Johannesburg, South Africa, and has since become a well-known and trusted name in the baby product industry.
Is Chelino a safe brand?
Regarding safety, Chelino is considered a safe brand. They place a strong emphasis on safety standards and comply with relevant regulations to ensure their products meet safety requirements.
To ensure maximum safety, always buy Chelino products from authorized retailers and follow all safety guidelines for proper usage and maintenance. If you have any concerns or questions about the safety of specific Chelino products, you can reach out to their customer support for more information.
How do I contact Chelino South Africa?
Website: You can visit Chelino's official website for contact information, customer support, and inquiries. The website may provide an online contact form or email address for reaching out to their support team.
Customer Support: Look for a customer support or contact page on the Chelino website. They may provide a phone number or email address that you can use to get in touch with their support team directly.
Social Media: Chelino may have official social media accounts on platforms like Facebook, Twitter, or Instagram. You can send them a direct message or post a comment to inquire about their products or services.
Physical Stores: If Chelino has physical retail stores, you can visit one of their locations and speak to a customer service representative in person.
Where is Chelino made?
As a South African baby brand, Chelino initially started its operations in Johannesburg, South Africa.
To find the most current and accurate information about the manufacturing locations of Chelino's products, I recommend checking their official website or reaching out to their customer support team. They will have the most up-to-date information regarding the manufacturing sources of their products.
How do Chelino's Shipping and Returns work?
Shipping: Chelino strives to provide a seamless and efficient shipping experience for customers. When you place an order on their website or through their authorized retailers, here's how their shipping process typically works:
Order Processing: Once you've placed your order and completed the payment, Chelino's team begins processing it. This may involve verifying your order details and preparing the items for shipment.
Shipment Preparation: Chelino ensures that your products are carefully packaged and prepared for shipping. They may also provide you with a tracking number that allows you to monitor the progress of your shipment.
Shipping Carrier: Chelino collaborates with reputable shipping carriers to ensure timely and safe delivery of your products. The carrier chosen may depend on your location and the products you've ordered.
Delivery Time: The delivery time can vary based on your location and the shipping method chosen during checkout. Chelino aims to deliver your order as promptly as possible.
Tracking: If a tracking number is provided, you can track your package's journey from Chelino's facility to your doorstep. This allows you to stay informed about the delivery process.
Returns and Exchanges: Chelino understands that sometimes a product may not meet your expectations or needs. Here's how their returns and exchanges process typically works:
Eligibility: To initiate a return or exchange, the product usually needs to be in its original condition, unused, and with all original packaging and tags intact. Certain products, such as items on clearance or special promotions, may have specific return conditions, so it's recommended to review Chelino's official return policy.
Contact Chelino: If you wish to return or exchange a product, you'll likely need to contact Chelino's customer service within a specified timeframe. They will guide you through the necessary steps and provide you with any required forms.
Return Authorization: Chelino's team may provide you with a return authorization number or label. This ensures that your return is properly processed and tracked.
Return Shipping: You may be responsible for the cost of shipping the product back to Chelino, unless the return is due to a defect or mistake on their part.
Processing and Refunds: Once Chelino receives the returned product and verifies its condition, they'll proceed with processing your refund or exchange. Refunds are typically issued through the original payment method.
Timeframe: The time it takes for a return or exchange to be processed can vary. Chelino's customer service team can provide you with more accurate information regarding the expected timeframe.
Please note that the exact details of Chelino's shipping and returns process may vary, so it's recommended to visit their official website or contact their customer service for the most up-to-date and accurate information. This information is provided down below.
Chelino Travel Systems
Chelino Urban Detour Travel System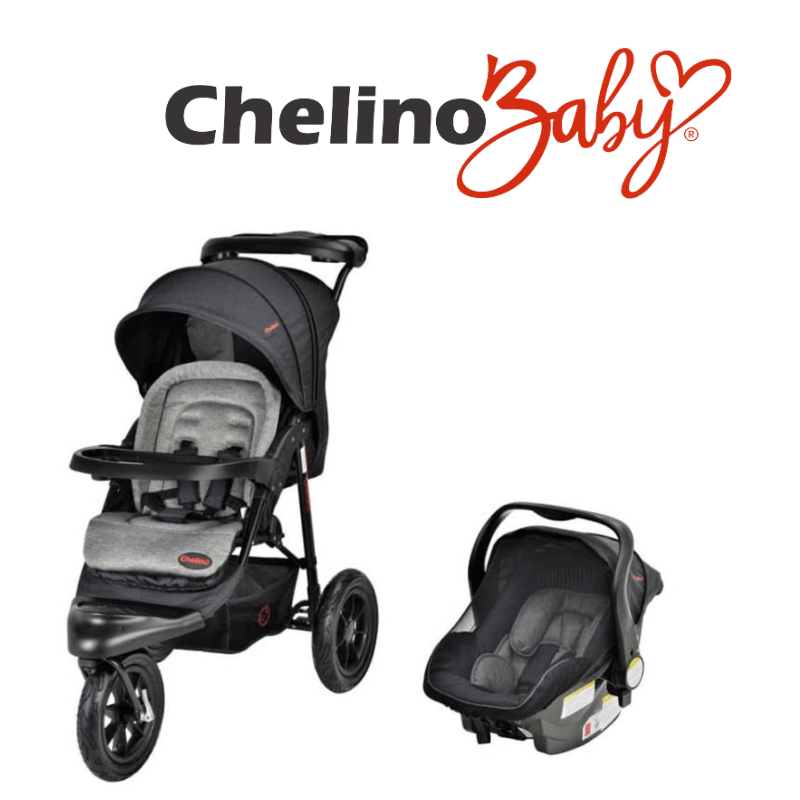 As a new parent yearning for outdoor adventures with my little one, the Urban Detour feels like a dream come true.
On my checklist? A convenient child tray with a place for that ever-important sippy cup. This beauty ticks that box and even surprises with a versatile four-position reclining backrest.
Oh, and can we talk about the spacious shopping basket? It's perfect for those spontaneous park picnics or last-minute errands.
And when you're juggling a diaper bag and a baby, the one-hand folding mechanism feels like a godsend.
Those inflatable easy-ride wheels whisper promises of smooth rides through city parks and bustling streets alike.
Features:
Stroller: The stroller features a sturdy frame and a compact fold mechanism, allowing for easy storage and portability. It comes with a multi-position reclining seat, adjustable handlebars, and a spacious storage basket, providing convenience for parents on the move. The front swivel wheels with a lockable option ensure smooth maneuverability, while the rear suspension offers a comfortable ride for your little one.
Car Seat: The included car seat prioritizes your child's safety during car journeys. It is equipped with a 5-point safety harness and side impact protection to ensure maximum security. The car seat seamlessly attaches and detaches from the stroller, making it effortless to transition between car and stroller.
Travel System: The Chelino Urban Detour Travel System offers a seamless integration between the stroller and the car seat. This allows for easy transfers of your sleeping baby from the car to the stroller without disruption. The travel system is designed to accommodate newborns up to toddlers weighing approximately 15 kg, adapting to your child's growth.
Elegant Design: The Chelino Urban Detour Travel System in Brown boasts a sophisticated and timeless design. The brown color adds a touch of elegance to your outings, making you stand out in style.
Durability and Reliability: Crafted with high-quality materials, this travel system is built to last. It ensures long-term use and dependable performance, making it a reliable companion for all your adventures.
More information:
Glide effortlessly with inflatable easy-ride wheels.
Convenient child tray includes a cup holder for little refreshments.
Customize comfort with a four-position reclining backrest.
Spacious shopping basket for essentials and extras.
Ensure utmost safety with a five-point harness.
Transition with ease using the one-hand fold mechanism.
Car Seat Highlights:
Shield your baby with a protective sun canopy.
Offer additional comfort with the head support pillow paired with shoulder pads.
Adjust the snug-fit harness effortlessly with a single pull.
Handle designed for easy grip, complete with a safety indicator.
Bonus: Each set includes a rain cover and a wheel pump.
Note: The Travel System is exclusively sold as a complete set. Individual parts are not available for separate purchase.
Usage Guidelines:
The Urban Detour Travel System is designed for infants and toddlers up to 18kg. While sturdy, it's not intended for professional jogging.
The Car Seat adheres to European ECE R44/03 standards, certified for newborns up to 13 kilograms.
Click to read our comprehensive Chelino Pram blog.
Chelino Amber Travel System
The Chelino Amber Black & Silver Travel System
Discover the remarkable Multi-Use Stroller with a host of features!
Easily switch from stroller seat to infant seat, reversible design, adjustable harness and footrest, compact fold, and optional Isofix Base. Experience effortless parenting.
| Specifications | Explanation |
| --- | --- |
| Infinite Recline Positions | Stepless adjustment of the seat unit's backrest offers nearly endless seat angles, all the way down to full recline. Four different seat positions. |
| Large Sun Canopy | Extendable sun canopy with window, the canopy shelters your baby from sun, wind, and too much stimulation. |
| Handle | Rubberized handle grip |
| Reversible Seat | Baby can enjoy the comfort of seeing mom or the road ahead. The reversible seat can easily be adjusted from parent facing to forward facing. |
| Extra Comfort and Convenience | Superior padding, with a luxurious finish and a sturdy elegant frame, lets your little explorer enjoy those off-road trails. |
| Detachable Bumper Bar | The Bella comes with safety and a detachable bumper bar for easy entry and exit. |
| Infant Seat | Change the stroller seat to the infant car seat, from car to the easy strolls ahead. Extendable sun canopy with window |
| Supports Weight | 0 – 22kg |
| Change from Stroller Seat to Infant Seat Easily | Reversible seat, forward-facing and parent-facing. Four different seat positions. |
| Adjustable Footrest | Three-level adjustment |
| Height Adjustable Handle | Four levels of adjustment |
| Removable Front Bar | |
| 5-Point Adjustable Harness | With shoulder pads |
| Front Wheel Functionality | Swivels and locks by a push of a button |
| Wheels Removable for Storage | Removable by a push of buttons |
| Easy and Compact Fold | With carrying handle |
| Optional Isofix Base | For infant seat 0-13kg |
| Supports Weight | 0-13kg |
| Included Accessories for Infant Seat | Sun canopy, head support pillow with shoulder pads, one-pull adjusting the inner harness, easy-grip handle |
| Dimensions | Length: 89cm, Height: 104cm, Width: 55cm |
| Folded Size | 44.5 x 71 x 83cm |
Table
*The Travel System is sold as a set and cannot be sold separately. Includes isofix base.
Manuals for travel system:
Chelino Maverick Travel System with adapters & isofix base
Maverick Chrome with Black is a beautifully designed stroller with a luxurious look. With features that will fit perfectly into any modern family.
From Birth to. (Approx. 0-36 Months)
Maximum Weight 22kg
Features:
Stylish luxurious stroller
Extendable sun canopy with peek-a-boo mesh window
Change from stroller seat to infant seat easily
Reversible seat, forward facing and parent facing
Four different seat positions
Three-level – Adjustable footrest
Four level – Height adjustable handle
Front wheel swivels and locks by push of a button
Easy and compact fold, with carrying handle
Pair this stylish stroller with the Chelino CP09 Universal Infant Car Seat and isofix base.
Features of the base:
Only suitable for infant car seats
IsoFix base
Only compatible with certain Chelino infant car seats
Suitable for Travel System Infant Car Seat (0-13 kg's) as per European ECE R44/04 regulations.
Instruction manuals:
Dimensions of each product:
Stroller:
Open: 78(L) x 62.5(W) x 106(H)cm
Folded: 71.5(L) x 62.5(W) x 35(H)cm
Car Seat: 56(L) x 41(W) x 58(H)cm
Base: 76(L) x 34(W) x 75(H)cm / 6kg
Chelino Urban Rider Travel System with adapters & Isofix base
Welcome to the world of convenience and style with the Chelino Urban Rider Travel System. Designed with adapters and an Isofix base, this travel system ensures a seamless and secure journey for you and your baby. Explore the features and benefits of this versatile travel companion.
Taking you off road and on wild adventure with your little one. The New Urban Rider Stroller with large inflatable wheels makes comfortable strolls for your baby. A sturdy frame and with large wheels will allow you to venture off road, taking a detour from City life.
Recommended Age : From Birth to 36 Months.
(Approx Max Weight. 22kg)
Note: Pair this stylish stroller with the Chelino CP09 Universal Infant Car Seat and isofix base.
Stroller Features:
Modern Design
Five – point safety harness
Large sun canopy with extended sun visor
Adjustable handlebar with button
Easy access removable bumper bar
Multiple Reclining Seat
Compatible with Universal Car Seat (Adapters included)
Easy Ride wheels for a smooth ride
One push button for wheels to be removed and allows for a compact fold
Brake and release pedal
Shopping basket
Easy Compact Fold
Includes Air Pump for Wheels
Features of the base:
Only suitable for infant car seats
IsoFix base
Only compatible with certain Chelino infant car seats
Suitable for Travel System Infant Car Seat (0-13 kg's) as per European ECE R44/04 regulations.
Instruction manuals:
Cleaning a Travel System
Keeping your travel system clean is essential for maintaining hygiene and ensuring your baby's comfort.
Also note that the image is the Chelino Amber Black & Silver Travel System but the steps apply to cleaning of all travel systems.
Here are some general steps to clean a travel system:
1. Stroller Frame: Wipe down the stroller frame with a damp cloth to remove any dirt or spills. For tougher stains, use a mixture of mild soap and water. Avoid getting water into the stroller's folding mechanisms and allow it to dry completely before use.
2. Canopy and Accessories: Detach any fabric canopies or accessories from the stroller and car seat. Follow the same cleaning instructions as the car seat cover.
3. Straps and Buckles: Clean the straps and buckles with a damp cloth and mild soap. Ensure they are completely dry before reassembling.
4. Wheels: Check the wheels for any debris or dirt. Use a damp cloth or baby wipes to clean them thoroughly.
5. Car Seat: Remove the car seat from the base and the stroller frame. Check the manufacturer's guidelines for cleaning instructions. Most car seat covers are machine-washable, but some may require hand washing. Use a mild detergent and avoid using bleach or harsh chemicals. Let the cover air dry thoroughly before reassembling the car seat.
6. Regular Maintenance: Routinely inspect your travel system for any wear and tear, loose parts, or damaged components. Regular maintenance will help keep it in good condition and extend its lifespan.
7. Cleaning Services:
For parents who prefer professional cleaning services, many baby gear rental companies or specialized cleaning services offer cleaning and sanitizing options for travel systems. These services can be a convenient option, especially if you want a thorough and professional cleaning without the hassle of doing it yourself.
In summary, cleaning a travel system regularly is crucial for maintaining hygiene and your baby's comfort. While cleaning can be done at home following the manufacturer's guidelines, professional cleaning services are available for those seeking a hassle-free option.
See Our Cleaning Services Here
Advantages and disadvantages of a travel system
| Advantages | Disadvantages |
| --- | --- |
| Convenience: Seamless transitions between car and stroller, preserving baby's sleep. | Weight and Bulkiness: Heavier and bulkier, impacting maneuverability and transport. |
| Cost-Efficiency: More cost-effective than buying car seat and stroller separately. | Limited Use: Infant car seat outgrown, needing separate forward-facing car seat. |
| Compatibility: Designed for secure fit, car seat and stroller work together. | Lack of Customization: Pre-packaged sets limit mixing and matching of models. |
| Versatility: Added features like reversible seats, adjustable handles, storage. | |
What are some of our popular travel systems?
Chelino Camp cots and Co-sleepers
How to Assemble a Chelino Camp Cot:
Unbox all the components and lay them out on a flat and stable surface.
Start by assembling the cot frame, connecting the side rails and securing them in place as per the manufacturer's instructions.
Attach the cot base by sliding it into the designated slots or securing it with screws.
If your camp cot has an adjustable mattress height, adjust it to the appropriate level according to your baby's age and needs.
Once the cot frame is assembled, attach the mattress support board or the provided mattress.
Install any additional features such as a mobile, toy bar, or changing station, if included.
Double-check all connections and make sure everything is secure before placing your baby in the cot.
Shop The Chelino Amber Nursery Cot Here
How to Dismantle a Chelino Camp Cot:
Remove any accessories or additional features from the cot.
Disassemble the cot in reverse order of assembly, starting by removing the mattress or mattress support board.
Detach the cot base from the frame, and then disassemble the cot sides and rails.
Carefully pack and store all the components and keep the user manual in a safe place for future reference.
Shop The Chelino Camp Cot - Tiffany Lux II Co Sleeper Here
How to Assemble a Chelino Baby Cot:
Unbox all the components and lay them out on a flat and stable surface.
Assemble the cot frame, connecting the side panels and securing them according to the manufacturer's instructions.
Attach the cot base or mattress support, ensuring it fits snugly and securely.
Adjust the mattress height if the cot allows for it, based on your baby's age and needs.
Once the frame is set up, add the mattress and any additional features such as a teething rail or storage drawers, if applicable.
Double-check all connections and make sure everything is secure before placing your baby in the cot.
Please remember that these are general guidelines and may not apply to every Chelino cot model. Always follow the specific instructions provided in the user manual for your cot to ensure proper assembly and safe use. If you need visual assistance, you can search for assembly or disassembly videos specific to your Chelino cot model on video-sharing platforms like YouTube.
Chelino Monitors
Get ready to dive into a world of modern parenting technology that keeps you connected and in the know.
Chelino Monitors are your ultimate companions on this exciting journey, ensuring you have an extra set of eyes and ears to watch over your little one. From keeping tabs on naptime giggles to ensuring peaceful nights, Chelino Monitors brings peace of mind to parenting.
Chelino Monitors are not just devices – they're your partners in creating a safe and secure environment for your baby. With cutting-edge technology, these monitors provide real-time audio and video feeds, allowing you to monitor your baby's every coo and slumber.
Whether you're in another room or even outside, you can rest assured that you're always connected to your child.
Equipped with advanced features like high-resolution displays, two-way communication, and even night vision, Chelino Monitors ensure that you're always connected, day and night.
No more tiptoeing to check on your baby – simply glance at the monitor and see your little one sleeping peacefully.
Stay connected to every precious moment with Chelino Monitors – your window into your baby's world. Enjoy peace of mind and create a safer space for your little one to grow and explore.

Types of Chelino Baby Monitors

Alecto SMARTBABY10
With the Alecto SMARTBABY10 Wi-Fi baby monitor, you can monitor your baby from anywhere via your smartphone/tablet. Convenient, when the babysitter is home, and you just want to see how your little one is doing.
Always and everywhere be informed via your smartphone/tablet.
Features:
Remote-controlled HD Wi-Fi camera
Speak back function.
Infrared night vision
Optimally secured.
Wi-Fi baby monitor
Additional benefits of this Wi-Fi baby monitor:
Free SmartLife app for iOS and Android
Push notification by movement and sound
Display temperature and humidity
Expandable with multiple SMARTBABY10BK Wi-Fi baby monitors for multiple rooms / children
Split screen images to multiple cameras
Includes an attachment for your camera in the shape of rabbit ears (grey)
Includes bracket for wall mounting.
Advanced HD camera
The Alecto SMARTBABY10 is an HD camera (resolution 1920 x 1080p), so it has a perfect image. The Wi-Fi camera can be moved remotely from the app, which is useful with a mobile baby or when they are a bit older.
The night mode makes it possible to get a sharp picture of your little one, even in pitch darkness. The built-in speaker prevents you from having to go directly to the nursery, you can easily reassure your child with the talk-back function.
The Alecto SMARTBABY10 is also equipped with a temperature and humidity sensor, easy to read in the app.
Motion or sound notification
Once the Alecto SMARTBABY10 detects movement or sound, you can get a notification on your smartphone.
SmartLife app
With the free SmartLife app for iOS and Android users, you have many features available.
Set push notifications, view the temperature and humidity in the room where the camera is located, move the camera remotely and record images/video directly via the SmartLife app.
Always nice to be able to capture special moments.
PRODUCT GUIDE - Manual

Alecto DVM200XL
Introducing the Alecto DVM200XL Video Baby Monitor, a cutting-edge solution that redefines how you monitor your little one.
With its 5" color display and sleek white/anthracite design, this monitor offers not only visual clarity but also a sense of style that seamlessly blends into your home.
Say goodbye to uncertainty and hello to continuous insight into your baby's world.
Key Features:
5" Color Display: The generously sized 5" color display provides a crystal-clear view of your baby's nursery, allowing you to see every detail with precision.
Real-time Video: Stay connected with real-time video streaming directly from your baby's room to the monitor. Enjoy a constant visual of your little one, even from a distance.
Night Vision: The built-in night vision feature ensures that you can monitor your baby's activities even in low-light or dark conditions. This means you can have a clear view both day and night.
Two-Way Communication: The Alecto DVM200XL enables two-way communication, allowing you to soothe your baby with your voice or speak to your partner or caregiver from another room.
Temperature Monitoring: Keep an eye on the room temperature using the monitor. This feature ensures your baby's comfort by providing alerts if the temperature goes beyond your preset range.
Lullabies: The monitor offers a selection of pre-installed lullabies that you can remotely play to help soothe and calm your baby.
Adjustable Camera Angle: Easily adjust the camera's angle for optimal viewing of your baby's crib or play area, ensuring you have the best perspective at all times.
Secure Connection: The Alecto DVM200XL features a secure and private connection, preventing unauthorized access to your baby's video feed.
Long Range: With a substantial range, you can move around your home while still keeping an eye on your baby without losing connection.
Expandable: The monitor system is expandable, allowing you to connect additional cameras (sold separately) for monitoring multiple rooms or angles.
Rechargeable Battery: The monitor comes with a rechargeable battery, ensuring you have a cordless and portable monitoring solution.
The Alecto DVM200XL Video Baby Monitor, available in white/anthracite through Chelino, empowers you with the technology and convenience you need to ensure your baby's safety and comfort at all times. Stay connected, stay informed, and experience the confidence that comes from having a reliable video monitor by your side.
Chelino Swings and Rockers
Welcome to the world of whimsical wonders and soothing serenades with Chelino Swings and Rockers!
Transforming fussy moments into giggles and naptime into dreamland adventures, these magical contraptions bring a touch of enchantment to your baby's world.
Chelino Swings and Rockers are not your average baby gear – they're a gateway to tranquility and smiles.
Imagine a gentle sway or a playful bounce that lulls your little one into a realm of comfort and relaxation. With a mix of soft melodies, plush cushions, and gentle motions, these swings and rockers offer a cozy haven for your baby to explore, learn, and rest.
Equipped with adjustable settings, safety harnesses, and captivating mobiles, Chelino Swings and Rockers ensure that your baby's every moment is filled with joy and comfort.
Whether it's calming a fussy baby or creating a space for delightful discoveries, these magical companions have got you covered.
Turn ordinary moments into extraordinary adventures with Chelino Swings and Rockers.
Let the magic of gentle motion and soothing sounds create a haven of joy and serenity for your little one.
Rent Bouncers, Rockers, Swings & Jumperoos Here
Chelino Rock & Bye Swing
The Rock & Bye Swing from Chelino is likely a baby swing designed to provide soothing motion for babies.
Baby swings often come with various features, such as different swing speeds, music, nature sounds, and toy attachments to keep babies entertained.
They are useful for calming and comforting babies and can be particularly helpful for parents when their little ones are fussy or need a gentle sleep-inducing motion.
Features:
Five-point safety harness padded harness.
Removable Front Tray
Hanging toys bar/toy plush
Musical melodies or soothing white sounds with volume control
Seat cover with extra padding
Has Remote control features
Two position seat recline
Gliding swing that moves from side to side
Motions to soothe and improve baby's sleep
Padded seat
Hanging toy bar
Remote control
Two position seat recline
Extra padded seat
Side by side motion
* This product is not intended to replace a crib or bassinet for prolonged periods of
sleep*
Specifications:
Length - 89cm
Height - 104cm
Width - 72cm
Weight - 7,6kg
Chelino Glider Cot
The Chelino Glider Cot is a modern parent's dream come true, ensuring both convenience and comfort for their precious little one.
With its remote-control features, adjusting the settings is just a button-push away, eliminating the need to disrupt your resting baby.
The cot boasts a foldable cradle canopy hood which can be adjusted to create the perfect ambience, shielding your child from light disturbances.
With a soft padded inner mattress, your baby will be cradled in the utmost comfort, ensuring a peaceful rest.
The swing forward and backwards motion, combined with a range of melodic sounds, helps in gently lulling your baby to sleep.
For babies who enjoy a visual treat, the hanging plush toys on the toy bar can be both a distraction and an amusement.
The robust design comes with a swing control plate, giving you mastery over the glide motions ensuring they're just right for your baby. And, with a maximum recommended weight of 9 KG, it's built to last through those initial months.
Your baby's comfort and safety come first, and this electronic Glider Cot is designed with exactly that in mind.
Rent The Chelino Glider Cot Here
Manual:
GLIDER-COT-INSTRUCTION-MANUAL-REV.2021.3.19S
Chelino Close n Cozy Sleeper
The Close n Cozy Sleeper is likely a bedside sleeper or co-sleeper designed to provide a safe and convenient sleeping space for newborns and infants.
These sleepers are designed to attach securely to the side of the parents' bed, allowing the baby to sleep close to the caregiver while maintaining their separate sleep space.
They often have a drop-downside panel for easy access to the baby during nighttime feedings or comforting.
Features:
Can be used as a rocking basinet.
Can be used as a seat.
Converts from a basinet into chair easily.
Toybar
Musical melodies and vibration
Converts to Rocker Seat
Seat rocks back and forth to soothe baby.
Instructional Dimension & Manual:
Please keep in mind that product names and availability may vary based on region and time, so it's best to search for these specific products on Chelino's official website or other reputable online retailers for the latest information, features, and models.
Chelino High Chairs
Get ready to elevate mealtime to a whole new level of fun and messiness – it's high chair time!
Chelino High Chairs are here to turn your baby's feeding frenzy into a delightful dining experience filled with laughter, exploration, and lots of adorable messes.
Chelino High Chairs aren't just your regular mealtime stations; they're mini thrones of discovery and yumminess. Designed for comfort, safety, and a splash of whimsy, these high chairs provide the perfect perch for your little food explorer.
Adjustable trays, secure harnesses, and easy-to-clean surfaces make meal prep, feeding, and cleanup a breeze for parents.
With Chelino High Chairs, every meal becomes a new adventure. Watch as your little one discovers the world of flavors, textures, and, of course, the art of making a mess in style.
Whether it's mashed peas or finger foods, these high chairs ensure that your baby's first culinary adventures are a delightful spectacle.
From pureed peaches to mashed potato masterpieces, Chelino High Chairs make mealtime magical.
Let your little one's taste buds embark on a flavor-filled journey from the comfort of their very own dining throne.
Buy Pre-loved High Chairs Here
Chelino Royal 3 in 1 Swing and High Chair
The Royal 3 in 1 Swing and High Chair is likely a versatile baby product that serves as both a baby swing and a high chair.
It combines two essential baby items into one, providing convenience and space-saving benefits for parents.
The swing function offers soothing motion for babies, while the high chair function allows them to comfortably sit and eat during mealtime.
This type of product is perfect for parents who want multiple functionalities in one product.
Features:
Can be used as a High Chair, Swing and Booster seat.
Height Adjustable
Seat Reclinable
Removable easy clean front tray
Adjustable footrest
Detachable Toybar
Seat cover with extra padding
Musical melodies or soothing white sounds with volume control
Wheels and stoppers
5 Point safety harness
With remote control
Bluetooth connectivity for personal choice of music
Chelino Vivo High Chair
The impressively designed Vivo High Chair that will bring ease during feeding time. It is easy to clean, has a special place for a cup or bottle and, of course, safety harness for the little culinary expert. The model folds and unfolds easily.
The Vivo High Chair is probably a standalone high chair designed to provide a comfortable and safe seating option for babies and toddlers during mealtime.
High chairs are elevated chairs with a tray, allowing babies to join the family at the dining table and learn to self-feed.
They often come with adjustable features, such as recline positions and height adjustments, to accommodate growing children.
Product Details:
Suitable approximately from 6 months to 15 kg.
5 point safety harness.
Footrest
Fold flat for easy storage.
Comfortable padded seat.
Features:
Highchair Safety Harness - A 5 point harness, that is perfectly designed to ensure your babies safety on the highchair.
Tray - It allows the parents to place fruits/foods on it, to make it easy to feed the baby. It can easily be cleaned with a damp sponge.
Highchair Foot rest - The footrest improves the babies posture, stability, and concentration, making eating in a high chair more comfortable for your child as they get older.
Highchair flat folds - The highchair offers a quick collapsible fold method, ensuring you do not waste your precious minutes fighting a highchair.
Highchair Dimensions: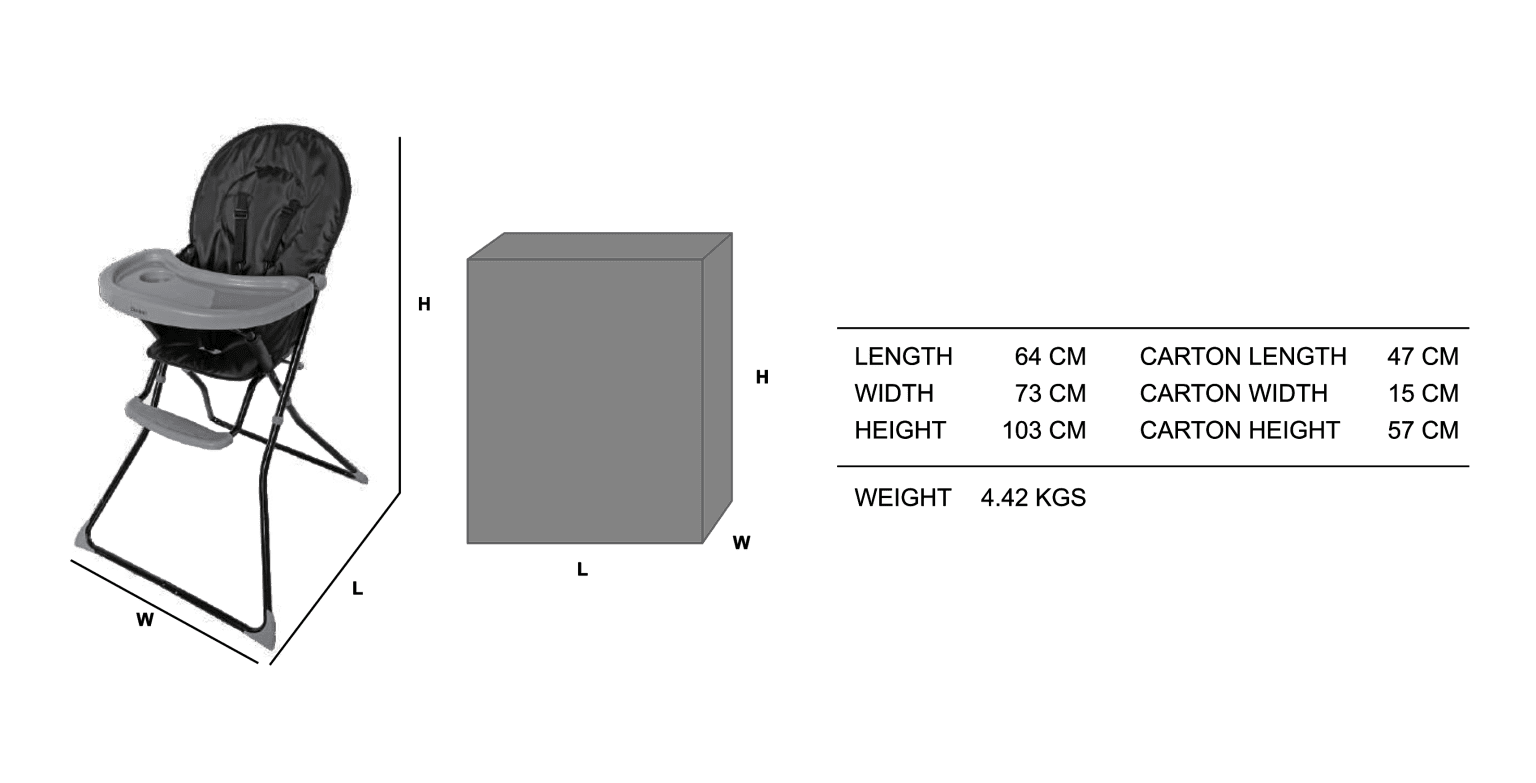 Chelino Cloud High Chair II
The Cloud High Chair II is likely an updated version of a Chelino high chair product. Like the Vivo High Chair, this type of high chair offers a safe and convenient seating option for babies during feeding times.
High chairs like these often come with a variety of features, including easy-to-clean materials, removable trays, adjustable height, and comfortable padding.
Features:
Five point safety harness
Padded seat
Removable tray cover with cup holder
Height adjustable
Recommended Use:
From six months up to three years.
Adjustable backrest
Adjustable footrest
Front and back wheels with a brake pedal
Large storage basket for all baby's bit
Dimensions:
70 × 58 × 28 cm
As product names and availability may vary based on region and time, it's best to search for these specific products on Chelino's official website or other reputable online retailers for the latest information, features, and models. This will ensure you have access to the most up-to-date product offerings and details.
FAQs
1. What is Chelino?
Chelino is a prominent baby brand known for its wide range of baby products, including car seats, strollers, high chairs, cribs, and more.
2. Why is Chelino considered the ultimate baby brand?
Chelino has earned its reputation as the ultimate baby brand due to its commitment to providing high-quality, safe, and innovative products that cater to the unique needs of babies and parents alike.
3. What types of baby products does Chelino offer?
Chelino offers a diverse range of baby products, including car seats, travel systems, strollers, high chairs, playpens, cots, walkers, and other essential items.
4. Are Chelino products safe for babies?
Yes, Chelino places a strong emphasis on safety and quality. Their products meet stringent safety standards to ensure the well-being of infants and young children.
5. Can I find stylish designs among Chelino's products?
Absolutely! Chelino combines functionality with stylish designs, offering parents a wide selection of aesthetically pleasing baby gear.
6. Does Chelino offer products suitable for newborns and toddlers?
Yes, Chelino's product range caters to babies from newborns to toddlers, ensuring they have the right gear for each stage of their growth.
7. How does Chelino contribute to a parent's convenience?
Chelino offers travel systems that include compatible car seats and strollers, making it easier for parents to transition their babies from car rides to stroller outings seamlessly.
8. Are Chelino products budget-friendly?
Chelino provides a variety of products at different price points, allowing parents to find options that suit their budget.
9. Where can I purchase Chelino products?
Chelino products are available in various baby specialty stores and reputable online retailers. You can also find them on the official Chelino website
10. Does Chelino have a customer support service?
Yes, Chelino provides customer support to assist with inquiries, product information, and after-sales service.
11. What is the difference between pram and stroller?
The terms "pram" and "stroller" are often used interchangeably, but they refer to different types of baby carriers designed for various purposes. Here's the main difference between the two:
Pram: A pram, short for "perambulator" or "baby carriage," is a type of baby carrier designed for newborns and infants. Prams typically have a flat and fully reclining carriage or bassinet-style seat where the baby can lie flat on their back. The design of prams provides a safe and comfortable environment for newborns, allowing them to sleep and rest comfortably during outings. Prams often have larger wheels and a sturdy frame, which makes them suitable for walks in parks or on uneven terrains. However, they can be bulkier and less portable than strollers.
Stroller: A stroller is a type of baby carrier designed for older infants and toddlers who can sit up and support themselves. Strollers have a seat that is more upright and allows the child to sit comfortably while still being securely strapped in with a harness or safety belts. They typically have smaller wheels and a more lightweight and compact design, making them easy to maneuver and transport. Strollers are suitable for parents who need a more portable and convenient option for everyday use and travel.
For more in detail check out our Pram and Stroller Review
Conclusion
It becomes evident that Chelino has rightfully earned its place as a trusted brand in the world of baby products.
Their commitment to safety, comfort, and innovation shines through their extensive collection of car seats, strollers, cribs, high chairs, and other essential baby items.
From stylish designs to thoughtful features, Chelino understands the unique needs of parents and babies alike, making parenting a more enjoyable and stress-free journey.
With a focus on quality craftsmanship, adherence to safety standards, and continuous improvements in design, Chelino has carved a niche for itself, winning the hearts of parents across the globe.
Whether you are in search of a reliable car seat for your little one's first ride or a versatile stroller for daily adventures, Chelino has proven to be a brand that you can trust.
As you embark on your parenting journey, remember that selecting the right baby products can make all the difference.
We hope this blog has provided you with valuable insights into Chelino and its offerings, empowering you to make well-informed decisions that ensure the comfort, safety, and happiness of your precious child.
Here's to many joyful moments and cherished memories with your little one, as you navigate parenthood with the support of Chelino's exceptional baby products.
Happy parenting!
Recommended Reading
Chelino Car Seat - The Ultimate Guide to Finding Your Best Match
Chelino Prams - Complete Stroller Guide 2023
Hospital Checklist for 2: a Free Checklist for Mom & Baby
Finding the Right Fit for Your Baby: Find My Fit
Top 259 Punjabi Baby Girls Names: Meaning, A-Z, Sikh
100 Bengali Girl Names – Rare And Unique Names for Your Little One
References
2.) Wikipedia - Baby Strollers, bouncers and swings
4.) Home - Chelino
Follow us on social media at:
Blogs: https://babyhouse.co.za/baby/
YouTube: https://www.youtube.com/@themomandbabyhouse
Facebook: https://www.facebook.com/MOMBABYHOUSE
Instagram: https://www.instagram.com/mombabyhous...
Website: