Baby strollers offer convenience for parents and safety for infants. Available in various types, including travel strollers , joggers strollers, and travel systems, they cater to different needs. Features like reclining seats, adjustable handles, and storage options enhance usability. Popular brands such as Joie, Chelino, and Cybex provide quality options.
Almost every first-time parent who walks through our shop's doors is completely overwhelmed. The first thing that is shared with us is that they feel there are too many choices, too many options on the market, and too many baby shops with unqualified staff that do not really care.
Their main concerns are always that they do not want to waste any money by buying a product that they do not really need or that they are not going to use for a long time.
They also have a fear that they will not buy the absolute "best" baby product for their firstborn as if their product choice will lessen their love for their Newborn.
Stroller Basics
What is the Difference between Strollers and Prams?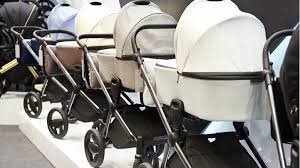 The terms "stroller" and "pram" are used often interchangeably.
Strollers: Strollers are typically lightweight, collapsible, and designed for easy maneuverability. They usually have a simple frame structure, feature a forward-facing seat, and may have multiple recline positions. Strollers are ideal for older babies and toddlers who can sit upright without assistance. They are convenient for parents on the go and often come with additional features like storage baskets, sun canopies, and adjustable handles.
Prams: Prams, also known as baby carriages or traditional prams, are designed with a classic, elegant appearance. They usually have a larger, more robust frame and larger wheels. Prams traditionally have a bassinet-like carriage with a fully reclined position, providing a flat and cozy space for newborns to lie down. This allows infants to face their caregivers and maintain eye contact during walks. Prams are suitable for newborns and younger infants who are not yet able to sit up independently.
However, it's important to note that the line between strollers and prams has become blurred over time, and many modern baby carriages combine features of both strollers and prams. Some models offer reversible seats or bassinet attachments that can be converted to accommodate different stages of a child's development.
Ultimately, the choice between a stroller and a pram depends on personal preferences, the age and developmental stage of the child, and specific needs such as portability, terrain, and functionality.
Prams are better suited for younger babies who need to lie down and cannot sit upright without support. Prams can also be compatible with infant car seats that are used from birth to 13 kg or in "real life", from birth to 6/7 months of age.
Strollers on the other hand tend to be lighter, fold up easier, and are more suitable for an older child. Strollers have limited reclining positions and very rarely recline completely flat. They are not compatible with infant car seats.
Why get a stroller?
---
You definitely need a pram or stroller. This is one of the essential items on your list of "must-haves". A pram is a long-term baby item and is usually used for a period of 2 to 3 years.
Short-term baby items like for example; a bouncer or base of your infant car seat should rather be rented or even bought secondhand. I always encourage my new parents to be money-wise and practical. Spend money on worthwhile, long-term baby items.
Stroller Types
---
There are a variety of different types of strollers available to buy for babies: Read our in-depth blog: Best Strollers for Sale. We review the best joggers, best double strollers, best umbrella strollers, and more.
Travel Systems are the most versatile option, as they typically come with a car seat that can be clicked into the stroller frame for easy transportation.
Jogging Strollers are the right pram for parents who do serious jogging, more than 5km per day. The reason is that they have more durable wheels, amazing suspension, and a large canopy for sun protection.
Lightweight Strollers are a good option for an older child or a second-time mom, as they are lightweight and easy to fold. They do not offer compatible infant car seats, their sun canopies are smaller and the backrests do not always lie completely flat.
Umbrella Strollers fold up the style and size of an umbrella. A first-time mom will end up buying an umbrella stroller as a second stroller if she bought the first-time a too heavy and bulky stroller. This stroller is also a better choice for an older child or an experienced second-time mom.
A convertible Stroller—can be both a single and a double stroller. Attach a second stroller seat, infant car seat, or a bassinet in order to transform a single stroller into a stroller for two. A great solution if you have two children a year apart.
Finally, Double Strollers can be used for twins or siblings close in age and come in a variety of styles and sizes.
Which stroller is right for me?
With hundreds of stroller options on the market and many opinions, from friends and family, to listen to, it can be overwhelming to choose the best one.
Ultimately the best car seat and the stroller will have to be one that works for you, your child, your budget, your vehicle, your lifestyle and so much more!
Find the right stroller by focusing on the following areas:
Lifestyle
Size of your vehicle trunk
Folding style
Budget
Will it fit my lifestyle?
If you live in the city and plan to use your stroller primarily indoors and for occasional walks in town, you will look at city lifestyle strollers. They are typically modular and stylish in design with EVA (Ethylene Vinyl Acetate) tires.
If you're a jet setter, busy parent-on-the-go, or simply love taking frequent family vacations, a travel lifestyle stroller would be a great choice. These strollers are compact and lightweight in nature - ideal for storing away - and are equipped with EVA (Ethylene Vinyl Acetate) tires.
If you love exploring the outdoors whilst breaking a sweat, you will need to consider an active lifestyle stroller. These options are robust in nature, durable in functionality, and sport air-filled or foam-filled tires for better performance for alternating terrain.
If you enjoy navigating the outdoors but don't plan on going full throttle on your cardio, you may want to consider a semi-active lifestyle stroller. This type of stroller is suitable for all-terrain but not professional running and typically has air-filled or foam-filled tires.
If you want the best of both worlds, the hybrid lifestyle is for the person who loves the occasional outdoor walks and getting lost in nature but doesn't have the luxury of a big enough car or trunk space. These sorts of strollers are made for enjoying both the indoors and outdoors and will have air-filled or foam-filled wheels that are medium in size.
Will it fit the size of my boot?
As a first-time parent and stroller buyer, the first thing you need to ensure is that your preferred stroller fits in your vehicle boot.
The ideal solution would be to measure the length, width, and depth of your boot. This way, you can make sure you have space not just for your stroller but for grocery bags or extra luggage too.
Does the folding style fit your taste?
Besides checking that your stroller fits in your car's boot, you 100% need to make sure that you're comfortable handling the stroller with and without your partner. That means looking at the folding style of the stroller.
Strollers can either have a one-hand, two-hand, three-hand, or four-hand fold depending on design and functionality.
Does it fit your budget?
Preparing for a baby is stressful and can be financially taxing on a household if you don't budget.
You may have enough money to buy the most expensive stroller on the market but that doesn't mean you should. Parents prioritize expenses and the importance thereof differently.
Luckily there are many stroller options on the market and there will be one within your preferred budget range.
Stroller Buying Guide
A shopping guide for strollers will make the buying process much easier and it will also provide you with essential factors that you should keep in mind.
Identifying the features and benefits of different stroller models.
Comparing prices of different strollers.
Determining which type of stroller will best fit your lifestyle.
Make sure the pram will also fit your boot.
Things to Consider When Buying a Baby Stroller
Consider the size of your stroller: It should be big enough to accommodate your child's size and weight.
Look for features that make it easy to move around with your baby: Things like adjustable handlebars, auto-folding mechanisms, and lightweight materials can make transporting your stroller more convenient.
Check the suspension and wheels: Ensure the stroller can handle bumps and uneven surfaces with ease.
Research the safety features: Check for a 5-point harness, reinforced frame, and other safety measures.
Think about storage options: Look for a stroller that has enough space to store your items while you're out and about.
How to Buy a Baby stroller - best places
One of the best places to buy a baby stroller is your local baby store. They typically have a wide selection of strollers from a variety of brands and can often give you helpful advice on what to look for when choosing a stroller.
I would strongly suggest that before you enter a local store, first do your own research. This will prevent you from just wandering aimlessly between all the different products and becoming overwhelmed. Staff in bigger commercial or chain stores are not always well trained and might not give you the best advice.
We are well known to spend 60 to 90 minutes with new parents on the floor. Our staff are well trained and have a database of over 26 years' worth of knowledge to draw from.
We also offer open days on designated Saturday mornings whereby we narrow down all the products that a client needs to only 5 categories.
During these 2-hour mornings, we spend 1 hour discussing and demonstrating the 5 products in the categories and share many aha! and funny moments.
The second hour is spent on taking them onto the shop floor and showing them our huge variety of the just discussed products.
We find that parents have now a better understanding of the baby products and they are much more confident and even less stressed.
Online blogs are a great source of information especially when they are written by other moms like me who have had a physical baby shop for over 26 years. The advice will be based on years of experience.
You can always find, baby prams at Makro, Babies R Us South Africa, Baby City prams, Babies R Us Cape Town, baby prams price at Game, pram and car seat combo Game, Checkers Baby, etc.
Be warned that some of the big chain shops tend to stock lower-priced baby strollers and prams with lower quality and safety specifications. Your shopping experience might not be intimate and/or you might not receive the individualized attention that you deserve.
If you have friends or family members who have recently had a baby, ask them for advice.
How much should you spend on a stroller?
The average range of prices for strollers in South Africa can vary greatly depending on the type of stroller, the brand, and the features included. Generally, you can find strollers that range in price from R500 to R7,000, with more feature-rich models and luxury brands between R7,000 and R12,000.
At The Mom & Baby House, you can save up to 50% by buying upmarket pre-loved travel systems or second-hand prams. Not only do you save money by buying second hand but you also lessen your carbon footprint on Mother Earth.
Mass consumerism is a huge crisis for the Earth and its natural resources. Luckily Millennials are the first generation of young people that are focusing on this issue and they have no ego issues about buying pre-loved or second-hand.
Most parents feel guilty when they buy second-hand or pre-loved, thinking that they are not offering the "best" to their children. Millennials of today do not equate their love for their unborn baby with the amount they spend on a pram or stroller. This is quite refreshing.
Cost and Brand Analysis
Why are most baby strollers expensive?
Most baby strollers are expensive because they are made with high-quality materials that are designed to last for many years and protect your child from the elements.
Additionally, many manufacturers offer features such as adjustable handles and reclining seats, as well as special features like a built-in diaper bag, umbrella, and cup holders.
The extra features and higher-quality materials increase the cost, but they also provide greater value and peace of mind for parents.
better to buy an expensive baby stroller or a cheap one?
It really depends on your needs and budget. If you are looking for something long-lasting and durable, an expensive stroller may be the better option.
However, if you don't need something that is top-of-the-line, you may be able to find a decent, cheaper option that will serve you well.
Ultimately, it's important to do your research, read reviews, and make sure whatever stroller you buy meets your specific needs.
Most expensive baby stroller brands
In South Africa, we have the following most expensive brands: Cybex, Thule, Stokke, Mima, Noola, etc. Read our in-depth blog: Ultimate Guide to Choosing the Perfect Cybex Stroller (2023)
10 of the most expensive new baby strollers in 2023?
Here is a list of some of the most expensive baby strollers on the market today:
Cheapest baby stroller brands
Here is a list of some of the most cheapest baby strollers on the market today:
Cheap prams will not have infant seats or their infant seats will not be compatible with bases. Installation of the infant seat will be difficult and installation mistakes very high.
Inexpensive prams will not have special wheels to ensure a comfortable ride and no suspension. The quality of frames will be low and your pram will not last more than one child.
Extra's like extended sunshades, adjustable handlebars, etc. will mostly not be included.
10 Cheapest strollers less than R5000 in 2023?
Here are 10 baby strollers under R5,000 in South Africa that you may find helpful:
Quinny Moodd Stroller - R4,799
Joie Mirus Stroller - R4,499
Baby Jogger City Tour Lite - R4,499
Baby Monsters Easy Twin - R3,999
Chicco Mini Bravo Plus Stroller - R3,999
Graco Evo Mini Stroller - R3,999
Maclaren Quest Sport Stroller - R3,899
Babystyle Oyster 2 - R3,899
Maxi-Cosi Dana For2 - R3,299
Joolz Hub Stroller - R2,999
10 Cheapest strollers between R5000 and R10 000 in 2023?
Graco Mirage Plus Stroller – R6,999
Joie Aire Twin Stroller – R7,999
Inglesina Zippy Light Stroller – R8,999
Graco Breaze Click Connect Stroller – R7,999
Peg Perego Pliko P3 Compact Stroller – R9,999
Babystyle Egg Stroller – R7,999
Baby Jogger City Tour 2 Stroller – R8,999
Chicco Echo Twin Stroller – R7,999
Mamas & Papas Sola 2 Stroller – R9,999 To read more about affordable prams, read our blog: Chelino Prams - Complete Stroller Guide 2023
10 Second-hand or pre-loved prams & strollers
Our second-hand pram stock levels change daily due to high sales and therefore it would be best if you could click on the links below and see current stock on our online website.
Joie Mytrax
Chelino Platuim Discovery
Click here to find up-to-date prices and multiple pics of our light Strollers and Jogger prams.
Click here to find up-to-date prices and multiple pics of our Travel Systems.
Stroller Longevity and Sales
Do baby strollers expire?
Strollers don't technically expire, but it can be beneficial to replace them after several years of use.
If you've been using the same stroller for several years, you may notice that it's starting to show signs of wear and tear.
It might not be able to support the weight of your child as well, or the fabric and wheels may be worn.
Additionally, safety standards for strollers are constantly being updated, so a newer model is likely to have more safety features than an older one.
Ultimately, it's up to you to decide when to replace your stroller, but replacing it every few years is usually recommended.
Do baby strollers go on sale?
That's a great question when you want to know how to choose a stroller! The answer is yes, baby strollers do go on sale!
If you are connected to the Facebook page of The Mom & Baby House, you will be able to know immediately when there is a sale. We post all our sale items on our Facebook page of more than 40,000 Fans.
Strollers for Different Ages
What age should a child be in a pram?
That depends on the type of stroller you are using! Generally, most strollers can be used up until a child is around 4-5 years old, or until they reach a certain height and weight. In real life, infants tend to use their strollers until 2 or 2.5 years of age.
Be sure to check the manufacturer's guidelines to determine the maximum age and weight limit of your specific stroller.
How to buy a stroller for every age group?
If you follow this buying guide you would not need to buy a pram for every age group. A good choice would last your new baby from birth until 2 or 2.5 years of age. Joggers, All-terrain, and City strollers are suitable from birth to +- 22kg.
The only exception is if you have the budget to buy a short-term stroller or additional stroller for the first 6 to 8 months like the Doona Stroller and car seat. This stroller is " a nice to have", not essential.
We recommend strongly that you rent this stroller from us for 5 to 6 months and rather spend your money on a long-term pram.
As shown in the image below your pram should be 3 strollers in 1:
Infant car seats attach to the frame from birth to 6 months.
Infant stage of the stroller.
Toddler stage of the stroller.
At what age is a child too big for a stroller?
Most prams are suitable from birth to 22kg or a child of 2.5 years. It is important to check the weight limitations in order not to stress the frame and mechanism of your pram. This is very important if you are planning to sell your pram in the future.
What stroller do I need for a Newborn?
The Doona stroller and car seat are an amazing combination of convenience and safety. It is incredibly easy to transition from car to stroller, and back again, which makes it ideal for busy parents.
It is also designed with safety in mind, featuring an anti-rebound bar in the car seat and an adjustable footrest for smaller children. The car seat is also equipped with a 5-point safety harness and side impact protection for added security.
Because the Doona is only suitable for infants between birth and 13kg or +- 6 months, we strongly recommend that you rent it.
We offer rental Doona strollers for a period of 5 months from us. Parents should rather spend their money on long-term prams and long-term car seats.
Can a baby lie flat in a baby stroller?
A baby will be able to lie flat in most prams that we call Travel Systems. Good examples of this are the All-terrain prams, City or Urban prams, etc.
Jogging strollers, lightweight and umbrella strollers on the other hand do not always offer this ability, instead, the child can lie at a 45-degree angle.
How many reclining positions does a baby stroller have?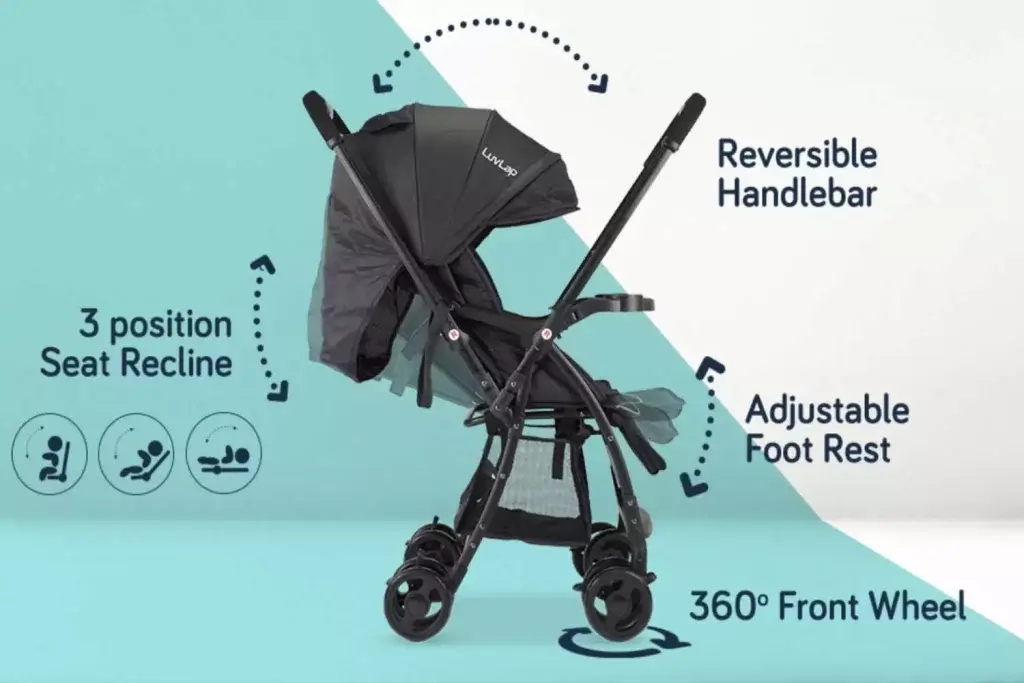 Most baby strollers have 3 reclining positions in order to adjust the seating angle to suit your baby's needs. Some strollers may have additional positions for extra comfort, but 3 is the most common.
Some joggers do not have fixed positions and you will be able to adjust a backrest strap into any position you prefer.
Infant Car Seats
How to pick a stroller and car seat
Picking a stroller and car seat can be a daunting task, but there are a few key elements to consider that can help you make the best decision for you and your family.
First, consider the age and size of your child. Are you looking for a stroller and car seat that will fit an infant or a toddler? Some car seats are designed specifically for Newborns and may not be suitable for older children.
Second, think about your lifestyle and what type of stroller and car seat will work best for you. Do you travel frequently? If so, you may want to consider a lightweight stroller that is easy to store and transport.
You may also want to consider a car seat that fits easily into your vehicle. Finally, make sure to do your research.
Look up safety ratings and reviews from other parents who have purchased the same product.
With the right information, you can make an informed decision and get the best stroller and car seat for your family.
What is a baby and car seat combo?
A baby and car seat combo is also called a travel system. It consists of a pram and an infant car seat.
The infant car seat fits into the travel system with or without adapters.
The infant car seat can easily transport the baby from the travel system to the vehicle. It is sometimes called
How does a car seat fit into a baby stroller?
Most infant car seats fit into strollers with a click-in system, so it's important to make sure the car seat is compatible with the stroller before purchasing either item.
Installing an infant car seat into a stroller can be a bit tricky, but with the right steps, you can do it quickly and safely.
First, make sure that the car seat is compatible with your stroller. Then, line up the car seat's base with the stroller's mounting brackets and secure the car seat in place using the provided hardware.
Following these steps should help you fit the car seat into your stroller quickly and safely.
Remember that brands are usually not compatible therefore if you received an infant seat from a friend it might not be compatible with your stroller.
The brand of infant seats that seems to be the exception is Maxi-Cosi and sometimes Graco.
Do all baby strollers come with an infant seat and adapters?
Generally, Lightweight strollers and Jogging strollers do not come with an infant seat and adapters, but some strollers are compatible with infant seats and adapters are available for separate purchase. It's best to check the manufacturer's websites for compatibility information and other product details.
The Mom & Baby House stocks a very big selection of rental infant seats and rental bases to help alleviate this problem.
Travel Systems like the All-terrain, Urban, or City strollers on the other hand are strollers with compatible infant seats with or without adapters. Sometimes the bases of the infant car seats are included with the price of the Travel System and sometimes not.
The Mom & Baby House stocks a huge selection of rental infant bases for a period of 5 months. We find it a huge money saver just because infants can only use the infant seats and bases for up to 13 kg, but in real life, most of the infants are during the 6th month already too big for the seat.
Are all baby stroller adapters compatible with any stroller?
No most of the stroller adapters will only be compatible with that particular brand of stroller. There are exceptions.
Do all baby strollers use adapters?
No, but the bulk of baby prams or travel systems do make use of adapters. Prams for example the Chelino Urban Detour does not need adapters.
Can I buy bases for most infant seats?
Many infant car seat bases are available for purchase. Using a base makes the installation much easier and safer just because it prevents installation mistakes.
According to the latest statistics, 70% of all injuries during a car accident are due to installation mistakes in the car seat.
The Mom & Baby House stocks all possible brands of bases that can be bought new and second-hand.
We strongly advise parents to rent their bases for 5 months. Bases can be used up to 13kg, but in reality, infants will most likely outgrow it by the 5th or 6th month already. Therefore rental of bases is a huge money saver!
If you buy an inexpensive travel system, you need to be aware that the infant seat will not be compatible with any infant seat. The infant car seat will have to be installed with the safety belt of your vehicle. This is a major hassle, quite difficult, and very time-consuming.
Do infant car seats fit onto just any infant base?
No, every brand of infant seats has its own brand of bases. The exceptions to the rule are the Maxi-Cosi brand and the Graco brand. Their bases are compatible with a few other brands of infant seats.
Click on a few of our Maxi-Cosi bases.
Bassinets
Do all baby strollers have bassinets?
Not all have travel systems or prams have bassinets. Bassinets may be purchased separately for some strollers.
For example, Maxi-Cosi offers the Windoo carrycot or bassinet that can be legally and safely in a car. This is rare to find in South Africa and is a great option; not only will your baby be able to lie flat while sleeping in the car, but it is an easy way to move your infant from the car to the stroller or cot.
Stroller with bassinets:
There are several South African stroller brands that offer strollers with bassinets. Here are a few options:
Are all bassinets compatible with all baby strollers?
Definitely not, most bassinets or carrycots will only be compatible with their own brand. For example; Maxi-Cosi Bassinets will fit on most Maxi-Cosi strollers. The Bebe Confort Windoo is a good example.
Stroller Wheels
Do the wheels of baby strollers differ?
Yes, the wheels of baby strollers can differ in size and material. Typically, stroller wheels range from 6" to 16" inches and can be made of plastic, rubber, or foam.
Depending on the type of stroller, the wheels can be air-filled, foam-filled, or solid rubber. It's important to choose the right wheels for your stroller to ensure a comfortable ride for your baby.
Which type of stroller wheel is best for outdoor use?
A stroller wheel with a suspension system is best for outdoor use. This will help cushion the ride for your baby and provide a smoother ride over bumps and uneven surfaces.
Another important factor to consider is the wheel size. Larger wheel sizes are generally better for outdoor use, as they can roll over obstacles more easily. Lastly, consider the type of terrain you will be using the stroller on.
If it is mostly on pavement, then a wheel with a hard rubber tread is best, as it will provide more traction. If you will be using it on gravel or dirt, then a wheel with a softer rubber tread or even all-terrain tires may be a better choice.
Ultimately, the best wheel for outdoor use will depend on your needs and preferences.
When should a baby stroller have foam-filled tires?
Foam-filled tires are ideal for strollers because they provide a smooth and comfortable ride for babies.
They are also easier to maneuver and require less maintenance. Foam-filled tires are most beneficial for baby strollers used on pavements or other hard surfaces such as roads, sidewalks, and shopping centers.
They offer a more comfortable ride and provide a greater level of control while pushing the stroller.
When should a baby stroller have air-filled tires?
Air-filled tires are a great choice for a jogging stroller as they provide superior comfort and maneuverability. The best time to get air-filled tires for your baby stroller is before you start using it regularly.
This way, you can ensure that your baby is riding in comfort and that the stroller is able to handle any terrain you may come across.
What type of baby stroller should use air-filled tires?
If you are looking for a baby stroller with air-filled tires, I recommend considering a jogging stroller. Jogging strollers typically have air-filled tires with high-performance shocks and suspension that make navigating rugged terrain easier.
Additionally, these strollers are designed to move quickly, allowing you to get to your destination faster.
Common Questions
Which countries manufacture baby strollers?
The following countries manufacture baby strollers;
China, the United States, the United Kingdom, Germany, India, Taiwan, and Japan.
For example, Joie products are produced in a purpose-built production facility in China. Design, engineering, and quality assurance are provided by the best combined global resources from Europe, North America, and Asia.
According to Wikipedia "Cybex is a manufacturer of child safety products (child car seats, strollers, baby carriers).[1] The company was founded in 2005 by Martin Pos in Hong Kong as CYBEX Industrial Ltd. It has been owned by the Chinese child safety manufacturer Goodbaby International since 2014"
Maxi-Cosi was founded in the Netherlands in 1984.
Each of these countries produces a wide variety of strollers for parents and caregivers to choose from, so it's important to compare features and safety ratings before making a purchase.
Where will you store your stroller?
With a baby you will have so many things to pack and get ready before you can leave the house, you don't still want to have to load your stroller in your boot. Therefore it might be a good idea to leave it in the boot of your car. The chances that you will use it in the house are super slim.
Because Jogging strollers are so heavy and bulky to load into your boot, it might be better to leave the stroller in your garage or outbuilding. To go for a jog in the neighborhood is much less hassle.
Can I take a baby stroller on an airplane?
Yes, you can take a baby stroller on an airplane. In South Africa, you may bring a pram with your normal luggage, free of charge. The pram will have to go through a security screening process and needs to be checked in at the gate or ticket counter.
Always check with your airline for their specific policies regarding strollers and other items before your flight.
Additionally, you may want to consider folding up your stroller and placing it in an overhead bin or in your checked luggage for transport.
Many clients rent strollers or prams from us and we have had many instances where the checked-in pram was severely damaged.
We prefer clients to take their rental strollers on the plane with them instead of checking them in.
How to test drive a stroller?
You would be able to test drive a new or second-hand pram in the shop. It is important not to only push it forward and then pull it backward, but to change direction.
The ease and time that it takes to change direction is a good indication of its' maneuverability.
An empty pram always steers quite well but the minute you place weight in it or a child sits in it, its true colors will show.
I prefer to place a fairly heavy infant seat in a pram like a Maxi-Cosi Pebble to get a better indication of the stability of the frame and the quality of the wheels.
Conclusion
With hundreds of options on the market and many opinions, from friends and family, to listen to, it can be overwhelming to choose the best one.
Ultimately the best car seat and the stroller will have to be one that works for you, your child, your budget, your vehicle, your lifestyle and so much more!
We are here to simplify the selection process. On our Home page you will find 4 categories by which we help you make the best decision:
Does the stroller fit your lifestyle, budget, folding style preference and lastly does it fit in your trunk?
FAQ
1. What is the best pram in South Africa?
2. What age are strollers and prams for?
Strollers and prams are typically designed for infants and young children, generally ranging from newborns up to around three or four years of age. The specific age range can vary depending on the weight and height limits specified by the manufacturer for each particular stroller or pram model. It's important to consult the manufacturer's guidelines and specifications to ensure that the stroller or pram is appropriate for your child's age, weight, and developmental stage. Additionally, some strollers and prams may have specific features or attachments suitable for different age groups, such as reclining seats for newborns or convertible options for older toddlers.
4. What is a stroller used for?
A stroller, also known as a pram or baby carriage, is a wheeled vehicle designed for the transportation of infants or young children. It typically consists of a frame with a seat or bassinet, and it may have additional features such as a canopy, storage basket, and safety harness.
5. Why are strollers called prams?
Strollers are often called prams, a shortened form of "perambulator." The term "pram" originated from the British English word "perambulator," which refers to a carriage specifically designed for newborns and young infants. Over time, the term "pram" has become more commonly used to describe baby carriages in general. While there can be regional and cultural variations in the usage of these terms, "pram" is often used interchangeably with "stroller" to refer to wheeled devices for transporting infants and young children.
6. strollers and prams at game
Strollers and prams at game events offer a practical solution for parents and caregivers who want to enjoy the excitement of the game while ensuring their child's comfort and safety. These specially designed baby carriages provide a convenient way to bring infants and young children to sporting events, allowing families to be part of the action without compromising their child's well-being. Strollers and prams at game events are equipped with features like sturdy wheels for maneuvering through crowds, comfortable seating for the child, and often include canopies to shield them from the elements. With these baby carriages, families can cheer on their favorite teams, create lasting memories, and share the joy of live sporting events together.
7. takealot baby strollers and prams
Takealot is an online retailer based in South Africa that offers a wide range of products, including baby strollers and prams. When browsing Takealot for baby strollers and prams, you'll find a variety of options to choose from. They offer different brands, styles, and features to suit the needs and preferences of parents and caregivers. Whether you're looking for lightweight strollers for easy travel, robust prams for newborns, or versatile options that can adapt to different stages of your child's growth, Takealot is likely to have a selection available. You can explore their website or mobile app, read product descriptions and customer reviews, and compare prices to find the right stroller or pram that meets your requirements. Don't forget to check for any discounts or promotions that may be available. Happy shopping!
8. chelino strollers and prams
Chelino offers a variety of quality strollers and prams to meet different needs. Their strollers range from lightweight and travel-friendly to robust models with adjustable handles and storage. For newborns, Chelino prams provide comfort with reclining bassinet-like carriages and convenient features like adjustable canopies and storage. Check product details and customer reviews to find the right fit for your needs.
9. affordable baby strollers and prams
To find affordable baby strollers and prams:
Research online for sales, discounts, and clearance sections.
Compare prices and features across brands and models.
Consider second-hand options from classifieds or local parenting groups.
Watch for store promotions and seasonal sales.
Check clearance sales for discounted prices.
Prioritize safety and quality when making your selection.
10. baby strollers and prams at makro
Makro offers a variety of baby strollers and prams with different brands, styles, and features. Visit their website or stores to explore the selection. Check for promotions and review product details to ensure they meet your needs. Makro provides options for all age groups and budgets.
Recommended Reading
References
Stroller (disambiguation) – Wikipedia
Stroller – Simple English Wikipedia, the free encyclopedia
61 Expert Tips On How To Choose A Stroller: We Answer All Your Questions! - Find My Fit
Follow us on social media at:
Blogs:
YouTube:
https://www.youtube.com/c/TheMomandBabyHouse
Facebook:
https://www.facebook.com/MOMBABYHOUSE
Instagram:
https://www.instagram.com/mombabyhous...
Pinterest:
Website:
Google: